By DJ Monk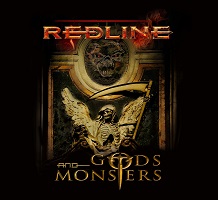 Hailing as they do from the ancestral home of heavy metal, it is almost inevitable that Redline plough a fairly traditional furrow, and one that very heavily references fellow Brummies such as Judas Priest, as well as interjecting heavy references to contemporaries such as Saxon and their ilk.
When all you want is heavy metal to sound like heavy metal, with no airs or graces, bands like Redline are the sort of band you should be slotting into your CD player or adding to you online playlist, whichever is your favoured choice of media. Because Redline don't mess about in delivering what they set out to do – and do so more effectively than an online courier company.
Big crunching riffs combine with tasty melodies that intertwine around neat harmonics and lead into catchier than Ebola choruses. Each song is beautifully crafted, doing no more nor more less than they need to, with the sense to leave out any unnecessary extrapolations or embellishments but rather just get down to the serious business of delivering some serious kick-ass heavy feckin' metal.
Vocalist Kez Taylor does bear an uncanny stylistic similarity to a young Halford, but that is not a criticism: far from it. After all, if you're going to earn a comparator, then what better than to one of the best. Similarly, Chris Basener and Ade Yeomans trade off each other in classic Downing/Tipton style, swapping riffs and solos with the gay abandon of seasoned professionals, while the rhythm section of Steve Hill and Mark Biddescombe hold down the bottom end with concrete solidity.
'Gods And Monsters' is a solid heavy metal album. Not groundbreaking by any means, but a worthy addition to the genre's canon and a thoroughly enjoyable listen.
All content © Über Rock. Not to be reproduced in part or in whole without the express written permission of Über Rock.