By Jonni Davidson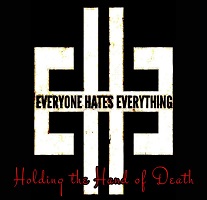 There's something of a creative renaissance going on in metalcore of late; largely due to the acted upon realization that the genre as it stands had stagnated well over a decade ago.  The trend of combining the core sound with other alternative and extreme styles has proved fruitful for a slew of bands that have capitalised on this hybrid approach.  Pittsburgh's Everyone Hates Everything are no exception, succinctly melding modern death metal with early 2000's metalcore on this their impressive debut full-length, 'Holding The Hand Of Death.'
Opener 'The Wrath To Come' sets the stall immediately – a Robb Flynn-esque call to arms of "Get the fuck up!" courtesy of frontman Paul Lowe Jr. instigates a frenetic blast of slick latter day grooving death metal in the vein of Dyscarnate.  It's the first indication of the band's capacity for brutality, albeit in the context of efficiently composed songs.
'The 9th hour of Friday' drops the pace with its slab of metallic hardcore riffing through the verses, interspersed with bursts of tremolo picking.  One of the album's strongest tracks, 'Into The Abyss', showcases the metalcore/death metal marriage at it's pinnacle, with guitarists Bill Hollis and Ben Maccagnan expertly transitioning from skull-crushing, sludgy death-doom riffs to the more intricate, haphazard style that we've come to expect from traditional metalcore.  However, the band appears to be taking influence from the more reputable pioneers of the genre rather than the also-rans of later years; there's a hefty dose of Darkest Hour in 'Desolate Is A Dark Place To Be', replete with some dextrous and lyrical lead work, while 'Earth's Funeral Procession' is reminiscent of Unearth at their most brazenly energetic.
Closing track 'The Ring' brings a moment of refreshing melodicism in both instrumentation and vocally, before erupting once again into sonic cavalcade to see the album out on a resplendent high note (although the pig squeal section may be an acquired taste for some).  Bolstered by consistently effective guitar work and some evocatively nihilistic lyricism, HTHoF is a sleek and considered debut from a band that you'll want to keep an eye on in future.
'Holding The Hand Of Death' is released today (Friday 29 November). You can get your copy HERE.
www.facebook.com/EveryoneHatesEverything
All content © Über Rock. Not to be reproduced in part or in whole without the express written permission of Über Rock.