By DJ Monk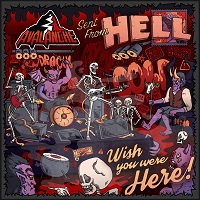 Any rock 'n' roll band emanating from the deepest southern part of planet Über known as Australia almost inevitably will draw comparisons with AC/DC, and also run the risk of being written off as copycats of the Young brothers and their distinctive sound. But, then, another set of brothers (no names, no pack drill, but you know who you are) have made quite a decent career for themselves ploughing that same furrow.
Which brings us neatly to relative new kids on the block Avalanche, who turn the clock right back to the mid-Seventies and 'DC's rawer, punkier roots with this, their debut mini-album. And it's very much an album of two halves – the first four songs being studio recordings, the second set being a quadrilogy of tunes recorded live at the end of last year.
The quartet may be newbies on the corner of Rock 'n' Roll Boulevard but they do display a sensibility beyond their years. Rambunctious opener 'Sold My Soul', for example, references the old story about meeting the devil at the crossroads: yes, these guys know their history, and they also know how to bring it to life, and in fairly decent style, as the resultant toon is a guaranteed floor filler at any gig. As is follow-up 'Balls Deep', which is, well, balls deep in the classic rock 'n' roll four-bar barroom boogie style in which so many of their predecessors have specialized for many years; but these kids bring a freshness that belies any sense of cheesy copycatting or out-and-out imitation: and it does have a pretty tasty solo.
As with all good rock 'n' roll bands, there is plenty of single entendre sexual innuendo, not least in the lascivious 'On Your Back': need we say more, nudge nudge, wink wink? As louche as Oliver Reed hanging around a brothel's back door and as subtle as a concrete sledgehammer to your balls, it does exactly what it says in the title. Closing out the studio section is 'Head First In Hell', which again, almost inevitably, reminds of nascent 'DC, although vocalist Steven Campbell (who apparently performs stripped to the waist, very much in the style of a certain other Aussie frontman) doesn't possess that leering vibrancy that made Bon so distinctive. Nevertheless, the result is another guaranteed air-guitaring floor-filler in the live environment…
Talking of which, the second half of the album – recorded at the at the Bull and Bush Hotel in Baulkham Hills, Sydney last December – continues in more or less the same vein. Actually, more so, as 'Run Like Hell' kicks in with a more acidic 'School's Out' vibe to its riff, the song's glam rock feel overtopped by what is a surprisingly squealy vocal from Campbell, who sounds like his spandex are two sizes too small. There's a faithful run through of 'Head First…' before 'Get Back (To Fuckwit City)' ones again ploughs the 'DC furrow deep and wide, although again the vocals (or the pathetic mix on them) let it down massively, before closer 'Down In The Gutter' redeems the second half of the album with its suitably riotous and furious finale, which echoes elements of the punk attitude displayed in the studio recordings – which is somewhat ironic when you think about it!
All in all, a decent enough wee slab of rock 'n' roll from a band who are obviously young and hungry, but, as it stands, Avalanche aren't going to live up to their name and sweep you away… not just yet, anyway.
'Sent From Hell' is out now. You can get your copy HERE.
www.facebook.com/Avalanche2018Official
All content © Über Rock. Not to be reproduced in part or in whole without the express written permission of Über Rock.