By DJ Monk and The Dark Queen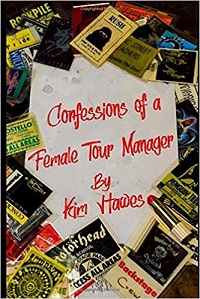 Kim Hawes can rightly be regarded as one of the true groundbreakers for women in the music industry, someone who broke through the glass ceiling of perceived prejudice and proved that anyone, if they put their mind to it, can achieve virtually any goal they seek to score.
Having survived ten years working with Motörhead – an achievement only one other person could boast about – this former swimming instructor became one of only six female tour managers working anywhere in the music industry, bringing with it the equal amounts of grit and glamour which makes up life on the road with some of the biggest bands on the planet, from Rush to Black Sabbath. Last year, having ended her journey and stored her suitcases away for the last time, Hawes shared her experiences in her autobiography, the rather cheekily titled 'Confessions Of A Female Tour Manager'.
This past week, she retraced her steps across the Irish Sea to talk to a specially invited audience at Ireland's biggest music conference, Output. Of course, Über Rock was in attendance and afterwards we sat down with Kim to swap stories, to hear at first hand how her progression from fan to "merch girl" to TM was the result of a series of happy coincidences – and how she came to throw not only Tony Iommi and Geezer Butler out of their own gig but also made a friend out of pop superstar Madonna for similarly kicking her off stage…
'Confessions Of A Female Tour Manager' is out now. You can get your copy HERE.
All content © Über Rock. Not to be reproduced in part or in whole without the express written permission of Über Rock.