By DJ Monk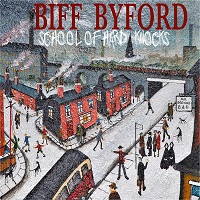 When an iconic frontman from an iconic band releases their first ever solo album – and does so more than four decades into their career fronting said band – it is perhaps fair to say that the prospect of same could be approached with equal amounts of anticipation and trepidation. The canon of British heavy metal is littered with stories of varied success. Paul Di'Anno has spent his time since leaving Iron Maiden living on the legacy of the two albums he recorded with them, while Rob Halford and Bruce Dickinson both produced some very dodgy stuff in their "time outs", to say the least. In fact, it could be argued that only Ozzy and Robert Plant have flourished by carving their own paths outside of the bands with which they made their respective names… which brings us neatly to this first ever solo offering from one of the most recognizable voices, never mind dominant forces, on the ÜK metal scene…
It has to be said, right from the outset, that this debut solo album from Biff is something of a different beast from some of the examples quoted above, as he is still very much the frontman of Saxon: this is merely a momentary side-step away from the band he has led for the past four-plus decades – and his commitment to the Saxon cause is made all the more evident through the heavy involvement of Nibbs Carter in both the song writing and recording processes. And, in many ways, it is also not a massive departure from what Biff has been doing for the past 40 and more years – although in others, as we will come to, it is… but, if you're expecting one of the Überverse's most distinctive vocalists to suddenly follow trend and deliver us of a country album, or a blues opus, then you may look on another website…
The album starts more or less as you would expect, with both opener 'Welcome To The Show' and the follow-up title track treading very familiar Saxon territory, with the latter in particular evoking the band's 'Wheels Of Steel' era, with Byford's trademark soaring vocal sounding as rich and lugubrious as usual, while the former could very well be a long-overdue sequel to anthems such as 'Denim And Leather' and, more especially, 'And The Bands Played On'.
But, it quickly becomes obvious that this album is no mere Saxon copycat, as the mood changes quite dramatically with the spoken word 'Inquisitor' with Byford reciting the words of Edgar Allan Poe over a suitably Flamenco-style acoustic guitar mien from another close collaborator, Fredrik Åkesson. The Poe theme continues with the epic 'The Pit And The Pendulum', which sees Byford not only stretching his vocal muscles in directions which he has rarely explored but also venturing into almost prog material (well, it is more than seven minutes long): again, however, there are echoes of the singer's past, as vague overtones of the 'Crusader' era permeate the overall sound.
From here, the album twists and turns like a cornered cobra. 'Worlds Collide' snarls its way out of the pit lane with the crunch and gritty growl of later era Motörhead, while the interpretation of 'Scarborough Fair' – the first of two covers – captures the languid folksiness of the original backed up with a solid hard rock groove that doesn't overpower the traditional vibe of the original – although one thing is for certain: Simon And Garfunkel it certainly ain't, but Biff Byford it most certainly is.
We plunge straight back into more recognizable, Saxon-esque territory with the duopoly of 'Pedal To The Metal' and 'Hearts Of Steel', both of which are co-written with bandmate Nibbs Carter. Neither song sounds like a reject from a Saxon session, but stands upright on its merit: the former is another harkening back to the heady days of the NWOBHM era, displaying every ounce of Byford's commitment to the metal cause, with its archetypal crunching riff and defiant, fuck-you-if-you-don't-agree lyric/vocal (the wailing sirens behind the guitar solo are a beautiful, trademark touch), while 'Hearts..' grounds and pounds with the force of heavy artillery being unleashed from the festival stages on which Byford is always in his element, and is also possibly one of the fastest songs he has ever laid down.
A second cover, in the shape of a faithfully worthy version of Wishbone Ash's 'Throw Down The Sword' sets the tone for the album's final act, mellowing things down quite substantially for its denouement, which in itself shows a totally different side, but not an unexpected one given the path the album has trodden to date, and leading that route to one of its surprising highlights…
'Me And You' is proof positive that even the most hard-assed metallian, the most Yorkshire of Yorkshiremen can be a soppy old git at heart, gettting his AOR groove well and truly on point. Released as the third extracted single this very Valentine's Day, it's a song Biff wrote for his wife, to mark their 25th wedding anniversary, and she must be a powerhouse of a woman as Byford pours every ounce of his passion into a heartfelt lyric that says what it needs to say with every syllable: the expression of the love of one human being for another, delivered unconditionally and without fear of contradiction or ridicule (well, are you gonna argue with one of the most defining figures in modern rock music, 'cos I sure as hell ain't). The album finishes off in a further retrospective mode, with 'Black And White' showing Byford reflecting on the life journey that has brought him to this moment in time.
'School Of Hard Knocks' is an album that lives up to its name. It tells its author's story. In many ways, it is what you would expect. It has his heritage stamped all over it. Yet, it is also a firm expression of his individuality, his charisma and his ability, at the time of life which he has reached, to do what exactly what to do. But, it also has its unexpected moments, deft touches of beauty that surprise and enlighten, giving further insight into the mind and soul of its creator. And that is why it works.
'School Of Hard Knocks' is released on Friday 21 February. You can get your copy HERE.
As previously reported, Biff Byford undertakes his first ever solo tour in April: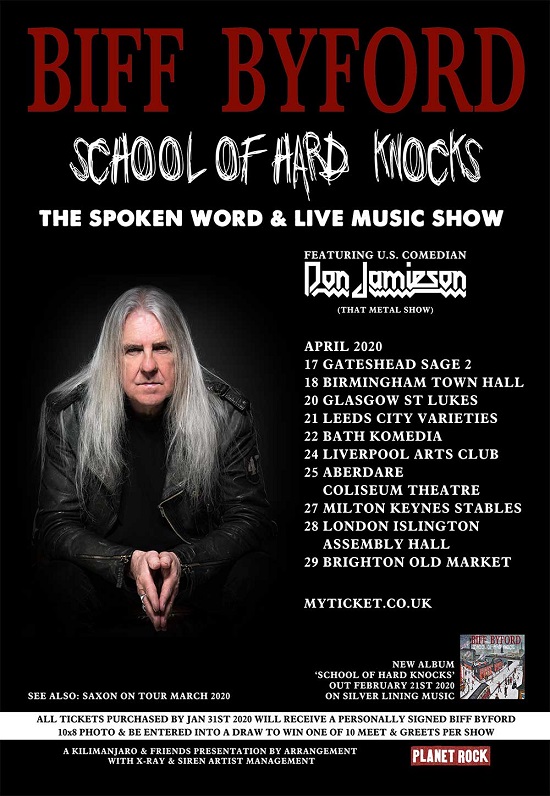 Saxon play re-scheduled 40th anniversary 'Castles & Eagles' dates at Barrowlands in Glasgow on Friday 27 March, the London Eventim Apollo on Saturday 28 March and the Manchester O2 Apollo on Sunday 29 March. They also appear as special guests to Judas Priest at Bloodstock on Sunday 9 August.
All content © Über Rock. Not to be reproduced in part or in whole without the express written permission of Über Rock.