Questions by David O'Neill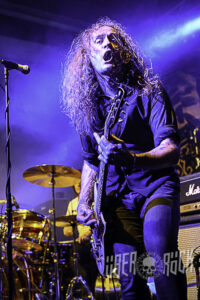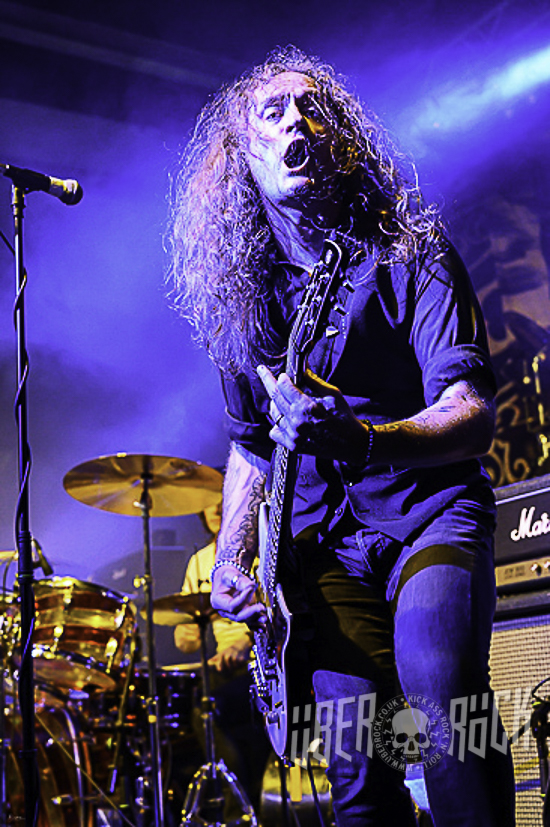 One of the hardest working musicians, fronting one of the hardest working bands in the Über Kingdom, Toby Jepson and his group of Wayward Sons are currently nearing the end of a month-long run supporting tongue-in-cheek superstars Steel Panther across the length and breadth of Europe. With the tour heading across the Irish Sea for its final trio of dates, we caught up with the singer to talk about how their latest roadtrip had been going, as well as the prospect of sharing the same stage as KISS at this summer's Download Festival, the band's relentless work ethic and the secret to their success on social media.
I started in a fairly obvious place, by asking how the Steel Panther tour was going…
We've had a great time! How could we not? We've played shows to packed houses in 11 countries with Steel Panther. They've treated us so well and the audiences have greeted us with huge enthusiasm across the board, so we have no complaints at all. I'm currently in Waterstones in Newcastle Upon Tyne, drinking coffee and talking to you ahead of tonight's show, before heading to Belfast tomorrow.
Have you any good touring stories?
Ha! Always, but not in ways you'd probably expect. We're all quite sedate really. I guess that comes with experience and age!!! Ha! These days it tends to be more about how the well the shows went, as this tour and the Black Star Riders run in November have been about introducing the band to European audiences, and how we make the most of our time. Also, it's been on a shoestring budget, so we're in a splitter van for hours on end, which is about as interesting as watching paint dry.
How stoked are you to be doing the main stage at Download after such a relatively short time on the scene this time around?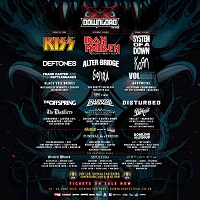 It's a dream come true, and an opportunity we don't take lightly. I've played the festival many times, but my, and our, first time on the main stage, so it's huge for us. Couldn't be happier.
Having looked at the bill, is it much of a buzz being on the same stage as KISS?
Of course! It's incredible to share a bill with a band like KISS, in fact with all the bands on that stage and part of the wider festival. It's really extraordinary for me to be 35 years into a career and still be wanted at events like this. I take it as a huge compliment, and it means we must be doing something right! I never take any of this for granted though, so to end up opening the main stage on the Friday will no doubt be the highlight so far in the bands career, and we aim to make as big an impact as possible. Just amazing to be there at all!
If you had a choice where would you like to be on the bill?
Right now, I'm more than happy where we are. It's a marathon not a sprint and I want to get where we get through merit and because the band have earned the right.
This is your second appearance at Download in three years. What's the secret to your success, when some bands don't get there once?
It's always about the music. There is no short cut or favour you can pull. It's about creating something that fires the imagination and then accepting all offers that come as a result. I'm a big believer of having a vision and sticking by that vision. Audiences are very savvy these days and I they they can smell it when it's not authentic, so that's what I try to do: be honest, passionate and true to the courage of my convictions. It really helps having such a great bunch of lads to realise that vision with; the guys are just brilliant on every level and it's a privilege to work with them. It's always abot the songs and the way the band present them. There is nothing else. Really.
It's fairly obvious that Sam (Wood) is the baby of the band. Where did you hear about him and how did he get chosen for the band?
Sam's the real deal. I worked as a producer for his band Treason Kings a few year back and spotted him immediately. He's possessed of that magic something that makes a killer guitar player and he has elevated the band beyond all I'd hoped for with his staggering talent. We're very lucky to have him in the ranks.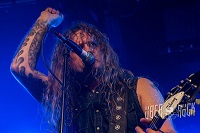 Your stage performances all appear to be a great deal of fun for you all. At every gig I have seen Nic (Wastell – bass) is as animated as the rest of you. What do you do to keep fit for this?
It's just something that happens when we perform. It's not thought about or pre-planned. It's an instinct and a reaction to playing together in a stage. The energy is part of the music and how it makes feel. Shoe gazers we are not. 
We all lead busy lives: I run and like the gym, Phil is a very active guy, as is Sam etc. But, more than anything, it's a feelgood thing that we can't contain.
I read your recent Facebook post about trying to convert people to the 'Sons. Do you think that this is difficult given the different styles of music you have some of the other bands you have from some of the other bands you've been on tour with? I'm thinking about the hardcore fans of bands like Black Star Riders and Steel Panther particularly.
Again, it's all about the music. I genuinely think folk make up their minds without too much difficulty. I'm/we're not trying to push people to like us. It's a steady build thing and an experience I've been through been through before with Little Angels, so I know how it goes. We want to play in froont of as many different audiences as possible so we can attract a wide audience, so I welcome it.
Many of your songs are very observant of the times we are in. Is this a deliberate attempt to be political (with a small p)?
Yes, it is, and I make no excuses for it either. I've always felt that artists have a responsibility, in a way, to talk about the world around them and report a position. I'm a protest single in many ways and feel strongly that music has always been a great platform for protest and debate. I also love to entertain, so it's a combination of the two. I'm happy if folk like the music either way. I'm not trying to make overt political points. I'm far more interested in just getting the conversation going and wrapping it up in the way music I can create.
As you – i.e. Wayward Sons – have made a very rapid rise to prominence and you are aware of the difficulty of making it in the music business, do you have an ethos of supporting younger bands when you headline your own tours?
I've spent a lot of my life working with unknown bands and acts to try and help them achieve the best they can. Again, it's all about the music. It really is. No amount of Facebook likes will actually make you successful so I say stick to the art, make that your focus and that will give you the best chance you can have. It's not a science, it's about having something to say, and saying it in the most unique and uplifting way you can. All the rest is really just  window dressing. Substance and delivery are the keys.
The reason I ask this is because I heard you have been involved in helping one of my favourite bands from south Wales – The Everyday Heroes Boys.  What do you think of the band?
Yeah they're great, I've had conversations with many bands through the years, and especially more recently through Lightning In A Bottle, which is a music consultation business with my co-founder Rob Town. We have seen and heard some great bands and try our hardest to help them move forward.
Is there anything else you would like to add in and a final message for our readers?
Really just a huge 'thank you' for the continued, enthusiastic support. It really is the foundation of what we do.  Without an audience caring and believing, we are nothing.
Steel Panther's 'Heavy Metal Rules' continues tonight (Saturday 15 February) at the Ulster Hall in Belfast and f Vicar Street in Dublin tomorrow (16 February), finishing at Cyprus Avenue in Cork on Monday (17 February).
Toby Jepson plays a rescheduled acoustic show, accompanied by Dave Kemp of Wayward Sons, at the Diamond Rock Club in Ahoghill, on Saturday 2 May.
Wayward Sons open the main stage at Download on Friday 12 June.
PHOTO CREDIT: Photos © Bandtogs/The Dark Queen/Über Rock.
All content © Über Rock. Not to be reproduced in part or in whole without the express written permission of Über Rock.