By Jonny Bakes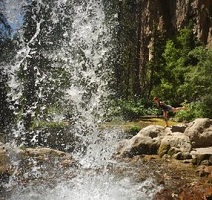 Who would have thought it would be so difficult to keep yourself entertained while locked up in the house all day? Some people are picking up new skills and hobbies while others descend into rampant alcoholism. Then there are others who dip their toes into both camps! For me, I've been trying to limit my alcoholism to the weekends while working (from home) through the week and finding ways to try and keep some sort of fitness up. 
However, he last thing I expected to be doing on a Friday afternoon was to be taking part in an online yoga class! Even less expected was for said yoga class to include Johan Hegg – yes, that burly Viking bloke from Amon Amarth… but, there I was. To give a bit of background, I'd seen a couple of articles that mentioned that Maria Hegg was running online yoga classes, and that her husband Johan was often getting involved to show that if he's able to do it then anyone can. My curiosity got the better of me, so I bought myself a session pass for the reasonable price of $6, dusted off an old camp roll-mat, moved the furniture in the lounge and decided to have a crack at it.
It was a pretty surreal experience as not only was this my first attempt at any sort of yoga class, it was also my first experience of taking part in an online fitness class of any sort. Fortunately, Maria's 'Friday Flow' class on this occasion was very beginner-friendly and she took plenty of time to explain the various poses that we went through and there was a significant focus on breathing techniques. Like many, I had this predetermined bias that all yoga classes had to be accompanied by airy-fairy music and bells, but that was not the case with this class! Instead, the Spotify playlist was chock-full of chilled out rock/metal tunes from the likes of Black Sabbath, The Cult and Judas Priest which definitely made for a more interesting experience.
The moves themselves weren't particularly taxing, which is ideal if you have trepidations about your flexibility but possibly less suited for the more seasoned yoga practitioners out there! The session was very focused on becoming more focused on your breathing, and performing different stretches to encourage your chest to expand further to allow even deeper breathing, which is one of the yoga benefits that makes it particularly recommended by health professionals at the moment. I seemed to feel a marked difference in how much air I could take in at the end of the session than I could at the beginning, and I ended the session feeling pretty relaxed too, which is always a bonus! Particularly as I'm getting to grips with the challenges of working the day job from home at the moment, as I'm sure most others are as well.
Currently the classes are running on a Tuesday for "Yoga to Release Tension" and on a Friday for the "Rock 'n' Flow" class that I took part in.  Both classes offer a different experience by the sounds of the descriptions (and the stark differences in the playlists) with more detailed information and booking links available at ​yogastark.se/yoga-online.html.
After enjoying the first session last week, I'm pretty confident I'll be giving it another bash this Friday, will any of you be there to join me? If nothing else, at least you'll be able to make the absurd claim that you'd been in the same yoga class as the frontman from Amon Amarth, which is a claim to fame in itself… if you keep the details pretty vague at least!
All content © Über Rock. Not to be reproduced in part or in whole without the express written permission of Über Rock.