Chosen by DJ Monk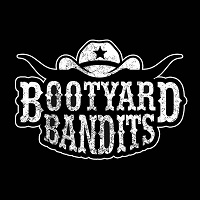 So, how's everyone surviving lockdown? Hopefully, partially by listening to loads of great rock 'n'f'n' roll music… That's exactly what we've been doing here at ÜRHQ, where we continue to be inundated with new material on an hourly basis. In fact, it seems as if many artists are really upping their collective games to find new ways of bringing us new material – which is exactly what Worcester-based spoof country rockers, and erstwhile ÜR faves, Bootyard Bands have done with their zany new single, released this past week through the increasingly important channel we call the interweb…
The highly appropriately titled 'Lockdown' coincides with the release of the ambitiously named 'The Very Best Of Bootyard Bandits', which itself epitomizes the quintet's tongue-in-cheek approach as its actually a five-track EP!
BB drummer Bamm Bamm gave us some background to this standalone new single:
"Well… I think we can all agree – Lockdown is rubbish and drinking is awesome. So, we figured, in the absence of any live shows, why not write a song about both of those things!? We haven't gone our usual route of taking our material to qualified professionals to make us sound good, coz we can't. So, instead, we threw this little ditty together ourselves from the confines of our own homes. No swanky mixing, mastering or pro film crew. Just five idiotic cowboys and a couple of cats. We might record it properly one day. But in the meantime – watch, listen, enjoy and share with all your friends!"
We couldn't agree more (although, of course, we would encourage you to drink responsibly, and make sure there's some left for us when we come visiting after the lockdown is over)…
Next up, we're breaking our own rules – well, just ever so slightly… but, then, we set the rules so we're allowed to break 'em.  'Powder Blue', the latest offering from the divisive Puppy – and, it is at its core, a simple performance video, something which would normally immediately eliminate it from consideration for this feature. BUT, but is one of the biggest words in the English language, and Puppy have delivered us with a brilliant twist with a nice tongue-in-cheek back story which reflects the fact that it was filmed right on the cusp of the current quarantine and has turned into a somewhat ironic, and timely, commentary on social distancing and the difficulties facing bands in the current climate:
Our next two videos are linked by a common video, and that is they are both animations. First up, we have Florida metalcore mob A Day To Remember, who dropped new single, 'Mindreader', seemingly out of the blue this past week. ADTR frontman Jeremy McKinnon told us why, with two singles already released, the band had decided to release another track in advance of new album 'You're Welcome':
"We've had this video done for some time now, and seeing as how our album isn't out yet and the state of the world is keeping us off the road, we wanted to get some new material out there for our fans as soon as possible. "This song was one of my personal favourites off the new album from the day it was written. I wrote it with the incredibly talented Mike Green. Fun fact, it was the first song I've ever sent the guys in the band that was unanimously loved. [It] was written to be a light-hearted take on people in relationships expecting their partners to read their minds."
Our final video sort of takes us full circle, as it is another isolation anthem, recorded by the four members of self-styled "left-field OG garage-psyche-pop" quartet The Prefab Messiahs in their own homes and then pieced together at a socially responsible distance and coupled with a very basic piece of Spongebob-inspired animation, which through its simplicity reflects that of the message behind the song:
Well, that's it for another week. It you want to beat the isolation blues with yet more great rock 'n' roll music, in all its shades, please be sure to check into our virtual bar and turn up the volume as you revel in the delights of our sister 'Singles Club' feature, the latest edition of which is also running today. Whatever you decide to do, keep 'er lit, keep 'er between the hedges and #StayTheFuckHome…
All content © Über Rock. Not to be reproduced in part or in whole without the express written permission of Über Rock.