By Jonny Bakes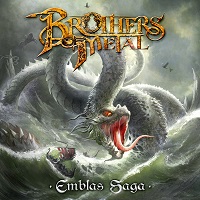 Brothers of Metal are one of those bands who cropped up on my radar from an early start thanks, in part, to them hailing from Falun, Sweden. Some of you may notice that this is also the hometown of a little band called Sabaton who I'm pretty partial to… so it was through them that I had got some early exposure to the band on the Sabaton Cruise back in 2017, a few months after the release of their debut album 'Prophecy of Ragnarok'. Nearly two years to the day after first seeing them live, Brothers of Metal cropped up again, this time in the form of being selected as our video of the week for their latest single 'One' – and this was more than enough to get me excited about the impending release of the new album!
And here it is, just over two and a half years since the release of 'Prophecy of Ragnarok', Brothers of Metal are back with their sophomore album 'Emblas Saga' which once again features artwork from Peter Sallai who is responsible for some of the epic artwork for both Sabaton and Amon Amarth. Now I know you shouldn't judge an album by its cover, but this does set it off to a pretty good start!
So, overall, this album is a solid helping of delightfully cheesy, viking-themed, power metal. It's bound to invoke many a sweep-and-grab move from metalheads all over as they soak up that cheese like their beards soak up fondue. The play off between the three vocalists leads to plenty of variety, from the softer vocals of Ylva Eriksson to the more gravelly vocals of Joakim Erikssson and Mats Nilsson which quickly became apparent in the video for 'One' that was released at the back end of last year.
There's definitely a stronger symphonic element to this latest effort, which results in a sound that is somewhat reminiscent of Amaranthe at times. Although, I would say that I personally prefer this to Amaranthe as the contrast of vocal styles is used far more effectively by Brothers of Metal. There should be plenty hear to keep most power metal fans happy, with fast heavier tunes through to the ballad numbers that are all rich with tales from the Norse myths.
The album opens with the foreboding spoken word track 'Brood of the Trickster' which sets the scene for the tales of the end times that will be portrayed throughout the album. Of course, these tales often lead back to the most mischievous of the Norse Gods – Loki. As 'Hel' kicks in, I'm immediately reminded of the theme for Skyrim, before this leads into a heavy ballad about the goddess of the underworld which is rife with heavier breakdowns that break up the ballad-like nature of this track. This is followed by one of my favourite tracks, 'Chainbreaker', with its incredibly catchy riffs and chorus that would appeal to most fans as it brings to mind the likes of Judas Priest in its pace and structure.
Another favourite track comes in the form of 'Brothers Unite' which seems to have grabbed the mantle from Manowar with its catchy call and repeat sections and calls to unite and stand up and fight. If you're on some sort of gym hype to start the new year, then this is definitely a song that'll get the old blood pumping while you're smashing out the cardio, that's for sure! But the absolute stand out track on this album has to be awarded to the leading single 'One', but you don't need me to tell you all about it again. It's happily nestled there towards the end of the album, and really is quite the uplifting epic, and if you haven't already checked it out, you can get this one in your earholes in advance of the album's release tomorrow!
So, for the first album review of 2020, this is certainly going to take quite a lot to beat. What a way to start the year! If you like your metal on the cheesier side, and your tales laced with mead and vikings then there's no way you can miss out on this album. Hell, I can think of many friends who will be rushing out to get their hands on this when it drops later this week. If this is how the year is kicking off, then it looks like we're in for one hell of a rocking time this year.
'Emblas Saga' is released tomorrow (Friday 10 January). You can get your copy HERE.
www.facebook.com/brothersofmetalofficial
All content © Über Rock. Not to be reproduced in part or in whole without the express written permission of Über Rock.