By DJ Monk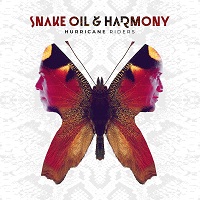 Snake Oil & Harmony, the acoustic duo featuring singer-songwriters Danny Vaughn (lead vocalist of Tyketto) and Dan Reed (frontman of funk rockers Dan Reed Network), are to release their debut album, 'Hurricane Riders', on Friday 28 February via Zero One Entertainment, to coincide with their next UK tour, which takes place in March
The debut release marks five years of collaboration between the two artists, who together have undertaken two UK and European tours, on which they shared their songs and the stories behind them.
"I first met Dan Reed at the Download Festival in 2014 and felt an immediate affinity," says Danny Vaughn.
"Similar to myself, he has built a reputation as a strong acoustic performer. That prompted me to ask him if he would be interested in doing a tour together. We started planning right there backstage. We named the project 'Snake Oil & Harmony' and it was evident from the audience's reaction to the very first show that we were on to something special."
Likewise, Dan Reed recalls their first encounter at Download:
"We were sharing the same stage. Tyketto was on right before us and blew us away."
"We met after our set, and it immediately felt like a kinship was forming from our first words together. Not long after Download, Danny reached out to me to do an acoustic tour together, and I jumped right on board."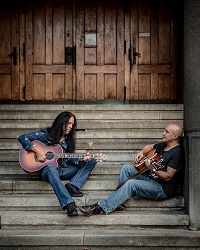 Danny and Dan recognised an immediate sense of kinship and chemistry.
"It is not a given that, just because two people can sing, they can sing well together," Danny Vaughn reflects. "But we were immediately creating a sound that everyone saw as special. Add to that the variety of stories, jokes and cartoon voices each of us does and you get a unique alchemy that creates a show that is never the same twice."
"People began to ask if we were going to try and write any songs together," continues Vaughn.
"So, we wrote our first song, 'Where The Water Goes', and played it on our next tour to see what our audience would make of it. The reaction was overwhelming and unanimous: it was time to make an album!"
Dan Reed agrees:
"After a couple really wonderful tours and receiving such positive feedback from the audiences on how our voices worked well together we decided to experiment and write a song together for the third tour we were about to embark on, to give the audience something different the third time around. I sent Danny a piece of music I had recently recorded but had no vocals. He sent it back within a very short period of time with a completely finished lyric and melody that I simply adored and flowed with the music perfectly! The scene was then set for us to keep on going."
These steps would lead to recording their full-length album in Prague, where Dan Reed now lives, at the legendary 'Faust Studios'.
Vaughn describes their creative process:
"Dan took the helm on this idea and the experience of writing and recording 'Hurricane Riders' with him as producer and overall lightning rod has been fantastic. I think it's the perfect blend of our differing styles and exactly what our fans are waiting to hear. I'm very excited about this new chapter in our history together and I think everyone else is going to love it too."
Naturally, the album features Vaughn and Reed on vocals and guitars, but it also brings on board Bengt Jonasson on bass and Robert Mehmet Sinan Ikiz on the drums —  "our bad ass Swedish musical brothers" as Dan Reed calls them!
"I have been blessed to work with so many great musicians on this musical journey," Reed goes on to say, "I really can't wait for people to hear what Danny Vaughn and I have concocted for everyone's listening pleasure! We strove to make an album rooted in the '70s with a focus on storytelling and live musicianship… and feel we achieved that goal in spades!"
"I can't wait for everyone to hear the album and looking forward to what people think and feel about this album!"
For a limited time, 'Hurricane Riders' is available to pre-order, via Townsend Music. Pre-orders will be taken until 3 February, and all those who purchase in advance will receive their copies by Valentine's Day!
Snake Oil & Harmony tour the UK in March: