By DJ Astrocreep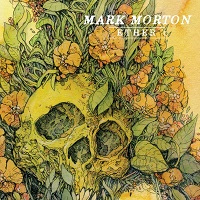 When it comes to guitarists, Mark Morton is one that should be at least fairly familiar to anyone into their more modern metal – he has been with Lamb of God for 20 years after all! After releasing his debut solo album 'Anaesthetic' last year, which included the final track of Chester Bennington's career, he has this follow up EP to keep his personal momentum going. So, how does it compare to any of his earlier work? Well, to start with the five tracks contained within have guests a-plenty again, namely Mark Morales (on two) – the only remnant from the debut – John Carbone, Lzzy Hale and Howard Jones, certainly not B-listers themselves by any stretch. We have two covers also, in The Black Crowes' 'She Talks To Angels' and Pearl Jam's 'Black' – both songs I'm a fan of and 'Black' being something that has more than a modicum of personal significance, so it's with a level of trepidation that I make my way through the just over 20 minutes.
So, let's head for the self-penned tracks first. Mark seems to have kept to a similar style of writing as on debut solo full length 'Anaesthetic', with the emphasis being more towards background rhythms playing, mixed with something you may credit more towards a Zakk Wylde or Black Label Society style than would automatically be assumed from his Lamb of God times and it's good to hear Mark continue in this style in his solo work, providing a quite different approach than the chug slide that often bores or frustrates me about Lamb of God. Playing both acoustic and electric guitar shows his thinking goes beyond the straightforward things he has done before with Lamb of God, however technical some of that previous work is, into a different style, whether the product of maturing as a person or maybe as something different that was always there. My favourite of the three is probably 'Love My Enemy', the track featuring Howard Jones on vocals, which may be due to my familiarity with Howards other bodies of work, though is of no slight against either John or Mark, given they both perform to an admirable standard and probably due to the sweeping nature of some of the guitar work behind Howard's vocals that kept the track so clear in mind as I went on to further listens.
Then we have the two covers and we will start with the bit I was most worried about when I glanced down the tracklisting prior to my first listen, the cover of Pearl Jam's 'Black'. Add in that I am rarely a fan of like for like covers to the above mention of my personal love for this track itself and this goes some way to explaining quite why I was so cautious beforehand. I need not have been. On the first listen through I'm glad to hear that Mark Morales chose to go with the 'We Belong Together' version of the track, which sent absolute chills down my spine the first time I heard it performed live, a job Mark himself does a very good job with. While very few can match Eddie Vedder in what he does, this is an excellent all-around tribute to the original, despite still being quite like for like. Lzzy's job on vocals for the Black Crowes cover sits as easily in the ear, with her distinctive sound being an excellent foil for Mark Morton's guitar playing, at both the acoustic and electric stages of the track.
Overall, there is only one thing I can really find to complain about for this, which is the brevity of it, likely due to the levels of touring that accompanied the debut release last year. The two covers add depth to three very well written tracks and the four  guests show quite how highly Mark is rated as a guitarist across the metal world, with the ease in which they all work seamlessly together.
'Ether' is released on Friday 17 January.
Mark Morton kicks off a short run of acoustic dates in Bristol tonight (Wednesday 8 January):

www.facebook.com/markmortonmusic
All content © Über Rock. Not to be reproduced in part or in whole without the express written permission of Über Rock.