By Rich Hobson
Much as we'd loved to have stuck around to see Phil Campbell's take on his former band (for parts of the set at least), we're almost fully in the grave by day four. Naturally, that leaves us hoping for an easy start to Sunday – something Seidrblot mercifully provide. The crossover between Nordic folk and heavy metal remains something of a tentative business, acts like Heilung and Wardruna championed in metal press where others will fail to register on the radar entirely. Seidrblot certainly turn some heads first thing on Sunday, flanked by fire dancers and sinking into mournful naturalistic tones and rumbling throat-singing, they strike a very different tone to the rest of the Bloodstock line-up but come off no worse for the fact. If anything, they draw more people as the set wears on, a mixture of curiosity and enjoyment setting a good tone for the final day of Bloodstock Festival 2021.
Still, the difference can't last forever. Bloodshot Dawn thrust us face-first back into the world of melodic death metal, soaring guitars and howled vocals perfectly suited to the main stage. As virtuosic as the playing is, we soon find ourselves wandering away, drawn to the miserabilism void of Grave Lines. Hammering in like the world's grimmest metronome, Grave Lines are just what the doctor ordered (presuming he'd given up on his patient) when it comes to dropping sheer low-end nastiness, striking the balance somewhere between Paradise Lost and sludgers like Eyehategod. The riffier material of 'Fed into the Nihilist Engine' hits just right, but it is 'False Flame' that strikes the most resonant chord, the haunting slow-burn melody and thick atmospherics amplified by the interplay between vocalist Jake Harding and guest vocalist Caroline Cawley (of Dystopian Future Movies).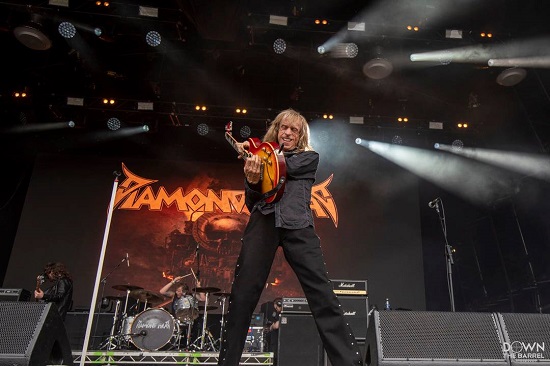 With Diamond Head, the immediate temptation is to boil the entire set down to inarguably the band's most notable hit, 'Am I Evil'. In doing so however, we diminish the Black Country heavy metal group's capability for NWOBHM brilliance, ignoring the elements that made them appeal to a band like Metallica in the first place. There is a touch of the guitar god greatness to Brian Tatler's leads, while vocalist Rasmus Bom Andersen strikes the careful balance that separates anthemic and cheese. 'Death By Design' brings the set to life and we're quickly treated to classic cut 'Helpless' to get the juices properly following. The careening riffs of 'Bones' show the band still have plenty of vitality over four decades from their debut, while also striking the right balance between vintage and new material. With an early afternoon slot the band can hardly afford to cover the expanse of their career, but they still make a fair crack of it as they gallop towards the end of the set with 'The Messenger', 'It's Electric' and (of course) 'Am I Evil?'.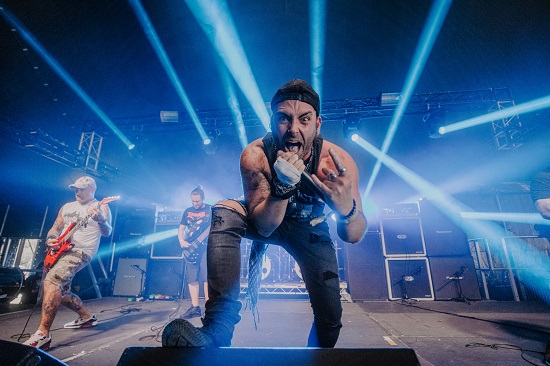 This Is Endless have an ear for combining death metal and hardcore that surpasses the vast majority of bands trudging through such murky waters. Set up in the Hobgoblin New Blood stage, the band's set is a furious and physical display of prowess that hits hard and fast, highlighting the vicious chops the band showed on last year's full-length debut 'Formations Of A World Below' through sheer bluster and power. Speaking of… Every day spent not watching Orange Goblin is a day wasted. The band's 25th anniversary celebrations may have been curtailed by the pandemic, but they come back with a fire that suggests they're here to make up for lost time. Massive riffs and sunshine make for excellent bedfellows and Orange Goblin are about the best Britain has to offer when it comes to bowling the crowd over with riffs – opener 'Sons of Salem' dropping like a ten-tonne war-hammer. There's a reliability to what OG do that recalls the rock'n'roll brilliance of Motorhead and just like Lemmy and co. Ben Ward and the boys have a mammoth task when it comes to picking a setlist. Still, they manage to cover at least one song from each of their records, and even if there's a sense some of the older material might not have the sheer heft more recent releases enjoy, we're not about to suggest dropping the Sabbathian 'Saurman's Wish' (even if we'd absolutely go for a slick 'The Wolf Bites Back' or sludge-blues dirge of 'Beginner's Guide to Suicide').
From the stoner kings to the heir presumptive. Green Lung made some decent waves with their debut 'Woodland Rites', but the sequel looks set to absolutely explode with stoner greatness. The new songs we get in Green Lung's set are indicative of the songwriting leaps the band have made – 'Reaper's Scythe' has a gallop that would do Iron Maiden proud, while 'Leaders of the Blind' ups the ante for the band's hearty appetite for stadium sized riffing. The whole set feels like the Sophie Lancaster Tent can't quite contain it, the riffs soaring and roaring with a vitality that belongs on main stages everywhere the band can get, evoking a head-on collision between Metallica and Black Sabbath without coming off derivative of either group. With Black Harvest out in just a few weeks, this is one band you'll need eyes glued to.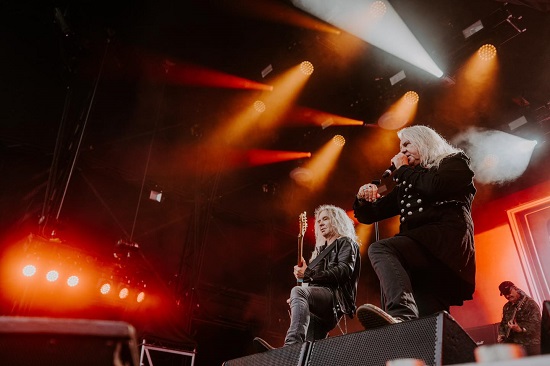 Roars of approval erupt before Saxon take to the stage, introduced by the one and only Brian Blessed with a soliloquy from Shakespeare and the roar of "GORDON'S ALIVE!". For their own part, the band come on full tilt with their anthemic NWoBHM offering; 'Motorcycle Man' is a punchy opener, getting the crowd jumping and shouting along with glee. There's no denying the band are somewhat less urgent than they were even a decade ago, but there's a measured power to their output that keeps the wheels firmly on the road and momentum like – as the second song in their set attests – a battering ram. Saxon have it well within their power to put on the quintessential festival set, their discography littered with massive sing-alongs that evoke the glorious 'anything can happen' days of NWoBHM. 'Wheels of Steel', 'Never Surrender', 'And The Bands Played On' and an enormous '747 (Strangers In The Night)' make for a lung-busting sing-along in the classics department, but the sheer Motorhead bluster of 'They Played Rock And Roll' shows there's thunder in their modern output too. It's a triumphant set that drives home just how much of a treasure Saxon are, the brilliant 'Princess of the Night' providing a suitably massive closer that feels like a perfect lead-in for the headliners…
But first, we head back over for our final band in the tent – Black Spiders. While the band's break-up didn't take hold too long, the fact remains it's good to have some slick, sleazy rock'n'roll to sink into. The band don't particularly indulge too much from their latest record, instead opting to blast out the favourites. It goes down a blast – 'KISS tried to Kill Me', 'Stay Down' and 'Balls' are perfect fodder for a well-oiled festival crowd, getting everybody jumping around and singing like mad; it's good to have Black Spiders back.
When it comes to championing heavy metal, few can hold a torch to Judas Priest. Back when the likes of Deep Purple and even Black Sabbath would sidestep the tag with a ten-foot pole, Priest wore the tag loud and proud, helping to shape the style and tone of the nascent genre. Tonight is an enormous celebration of that fact, a belated 50th birthday bash just an hour's drive from the band's ancestral home and rammed with easter eggs and rarities. To boot, the band roar into life with 'One Shot At Glory', played live for the first time in the band's history. With an expanded two-hour set, the band throw out a mixture of songs old and new, the likes of 'Lightning Strike' sitting perfectly as a way to maintain momentum and force. Halford looks and sounds every bit the metal god – his voice every bit as commanding as it ever was, whether charging forwards on the likes of 'Exciter', howling to 'Painkiller' or even crooning as on 'Victims of Circumstance'.
An early airing of 'You've Got Another Thing Comin'' offers the perfect opportunity for Priest to strut their stuff – you can physically hear the stadium swing in their sound, while Richie Faulkner and touring guitarist Andy Sneap bring home the guitar god goods. Chuck in a stead stomp from Priest's longest serving member Ian Hill and the thundering percussion of drummer Scott Travis and there's no denying it, Priest are undisputed kings of the stage and damn near perfect. The set might get light on massive hits at points, but the sheer thrill of hearing songs that haven't appeared for decades (or in other cases, ever). The stage looks incredible without giving over to ostentation and even when the band do lean into their theatricality (of course Rob rides on-stage on a motorcycle for 'Hell Bent For Leather') they do so with a panache that makes it feel effortless. The arrival of Glenn Tipton on-stage for the closing portion of the set (an insane run of 'Metal Gods', 'Breaking The Law' and 'Living After Midnight' – hot on the heels of 'Electric Eye' and 'Hell Bent For Leather') makes for a suitably emotional close, yours truly's heart swelling with pride as Rob dons a leather jacket with the Black Country flag on and even busts out a giant inflatable bull for an almighty final sing-along.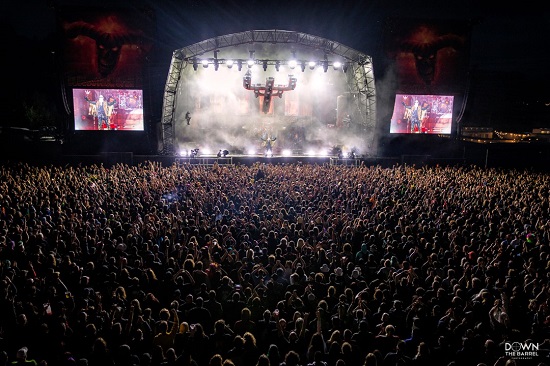 Given all the doom and gloom of the past year-and-change, to actually be able to go and attend a festival at any capacity feels like a coup, but the fact Bloodstock managed to pull together such an incredible line-up under such difficult circumstances is nothing short of a marvel. With 50 years of Judas Priest closing out Bloodstock's own belated 20th anniversary celebrations, we can't help but feel like Bloodstock truly has earned its reputation as the ÜK's biggest celebration of heavy metal, the genre in fine health for another half century going forwards.
PHOTO CREDIT: Photographs courtesy of Bloodstock.
Bloodstock 2022 will take place over the weekend of 11-14 August. Headliners Lamb Of God and Mercyful Fate will be joined by Dimmu Borgir, Testament, Bury Tomorrow, Vio-lence, Philip H Anselmo & The Illegals, Sacred Reich, GWAR, Exodus, The Black Dahlia Murder, Static-X, Heathen, Bloodywood, Life Of Agony, The Night Flight Orchestra and Butcher Babies, with many more to be announced. Early bird tickets are on sale now.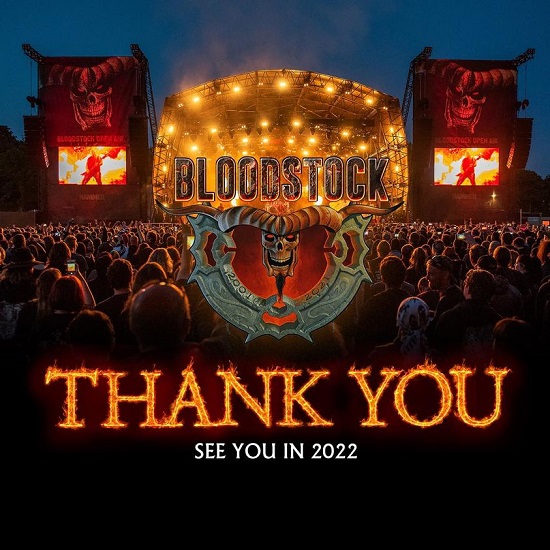 All content © Über Rock. Not to be reproduced in part or in whole without the express written permission of Über Rock.