By Monk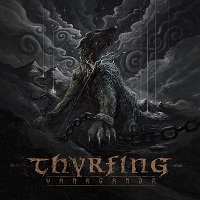 When one thinks of melodic death metal bands who draw their inspiration from the Viking mythos, one's thoughts more often than not turn to Amon Amarth. And quite understandably so, as they are the one band who, almost singularly, have taken the genre from the fjords of Scandinavia to the arenas and festivals the Überverse over… but, while AA were coalescing their sound into that which would conquer the world in a way which undoubtedly send their ancestors into an envious berserker (sic) rage, other forces were also at work, forging their own path through the Nordic mythologies and seeking their own truths in the mists of the ancient time, before falling silent…
…Only to be reborn, as Thyrfing now are, brought back to life after a sleep lasting eight years and once again raising their cursed sword high and proud to declare their intention to rape and pillage our aural cortexes with their brand of paganistic surrealism, unforgivingly and unremittingly. And they do so in a way which leaves all foes and unbelievers lying bloodied and dying in their wake as they unleash their fiercesome eighth studio album upon an unsuspecting Überverse – and "fiercesome" is an apt description as the opus takes its name from an alternate name for the mighty wolf creature more commonly known as Fenrir.
This comeback album kicks in with the majestic sweep 'Döp dem i eld', which builds slowly, like a Viking fleet appearing over the horizon and slowly making their way to the beach below an unsuspecting settlement, before unleashing its full fury with berserker-like intent, ravenous blast beats underpinning acerbic guitar riffs while flutes and strings scout their way around the melee, leading this raiding force deeper and deeper into your aural cortexes. Right from the off you know that this is old-school Viking metal, and a force re-awakened, determined to prove that they are just as potent and relevant raiding force as they ever were.
'Undergångens länkar' broils and seethes like a brewing Baltic storm, its surge whipped up by the oars of the ever-approaching longboats, while 'Rötter' is another huge, bombastic and epic-sounding battle anthem, Jens Rydén's strident, clarion call vocals pumping the adrenaline through your veins as the crunching, growling twin guitars drive you forward into the battle against false metal, and false metal prophets.  And the fact that Rydén sings in his native Swedish adds an extra layer of authenticity to the stories which he tells, his guttural tonality imbibing a spirit of realism and trvth (sic) which is so often sacrificed when bands translate their lyrics into what can often be their often-blander English equivalents.
'Vanagandr' is a defiant declaration from a renascent force. A reminder to subsequent heirs apparent and false pretenders that the old gods still have a trick or three up their sleeves, and that their dormancy has only given them the opportunity to replenish their war chest and come storming back with furious intent and the blood of their weaker foes dripping from their axes. All hail the wolf gods!
'Vanagandr' is out now. You can get your copy HERE.
Thyrfing play HRH Vikings, alongside Ensiferum, Korpiklaani and many more, at the O2 Academy in Sheffield over the weekend of 4/5 December.
www.facebook.com/thyrfingofficial
All content © Über Rock. Not to be reproduced in part or in whole without the express written permission of Über Rock.