By Jonny Bakes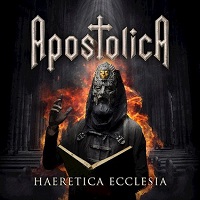 It seems like "super groups" are coming back into fashion again, where musicians from well-established bands join forces to produce something that combines all of their strengths together into something a little popularized bit special. However, recently this seems to have also been combined with the anonymity that Ghost have exhibited throughout their career, so we now have "super groups" where we have no idea who the members are. Sleep Token is possibly the latest venture that springs to mind, but it's not them I'm here to talk about today… Instead, I have something that promises to be right up my street with a mysterious "anti-clerical" group slated for fans of Sabaton and Powerwolf; I simply could not resist!
We don't really know much about the band members themselves, other than the fact that they are a group of musicians from the international metal scene, but this just adds to the mystery surrounding them. Musically, it comes across as a bit of a combination of the big theatrical metal bands out there at the moment, specifically Ghost, Powerwolf and a pretty decent smattering of Blind Guardian to boot. As a concept, it really has me intrigued, as the subtle anti-clerical nature of the music works really well especially in the way that it takes themes from the Book of Revelations. There's liberal use of the organ which enforces that link to Christian themes but with a definite darker spin to these, this is certainly no Christian metal band! I could speculate for hours as to who the musicians behind the masks might be, but that just wouldn't be in the spirit of the thing, but I will say that the vocals do sound vaguely familiar…
'Haeretica Ecclesia' gets off to a fantastic start with 'Sanctus Spiritus', opening with harmonised Latin chanting backed by organ drones. It's not long though before this quickly surges ahead into some raucous power metal that is absolutely packed to the rafters with energy. The vocals are gravelly during the verses in a way that is very reminiscent of Powerwolf, but I wouldn't be so quick to write these guys off as a clone (they're not) but the chorus is, well exactly that! There's heavy use of choral performances throughout the album and you're hit with this from this very first track and with each repetition of "Sanctus Spiritus" it buries itself deeper into your memory.
Now the other track I want to talk about is the leading single, 'No More Place in Hell', which was released with a teasing video earlier in August. The reason I've singled this one out, when normally I would avoid talking about pre-released tracks, is because it is perhaps the weakest track on the album. What this means is that if you've already listened to 'No More Place in Hell' and it got you all excited then you better buckle the fuck up because the rest of 'Haeretica Eclesia' is going to blow your mind! Equally, if you found yourself underwhelmed by it, then I strongly urge you to at least give the album a cursory listen because it has so much more to offer! It's not that 'No More Place in Hell' is a particularly bad song either, it's just that it feels a bit like it's a whole lot of build up for not a lot of excitement (I'm pretty sure I've been told that before too…). It has a pretty steady rhythm and plenty of organ so that there's no mistaking it as an Apostolica track, but it does lack a lot of the fanfare and excitement that the rest of the album brings!
The whole album is incredibly theatrical with plenty of bombastic repetitive passages that I can see being an absolute blast at a live performance, in fact I think that will be the thing to seal the deal. If they can bring 'Haeretica Ecclesia' to life on the stage, then we will have ourselves a strong competitor for Ghost! I think there's definitely something to look out for with Apostolica and I'm pretty glad that I've managed to get in early before the hype train really starts rolling down the track. Put simply, 'Haeretica Ecclesia' is a fantastic example of bombastic, theatrical power metal that adopts an anti-clerical stance to deliver room filling ambience and impressive harmonies, and this is why it's an early contender for my top albums this year. Now if someone could have a word with Vicky at Bloodstock, I think we have a good shout for a 2022 performance!
'Haeretica Ecclesia' is released on 17 September. You can get your copy HERE.
www.facebook.com/Apostolicaband
All content © Über Rock. Not to be reproduced in part or in whole without the express written permission of Über Rock.