By Rich Hobson
We'd sincerely like to find (and kill) the baboon that clearly shit in our mouths on Friday evening (and kicked our asses while it was at it). Its with no small amount of soreness that we arrive at Bloodstock for day #4, but main stage openers Borstal soon get us in the right mindset (even if the flesh is a little too sore to obey straight away). Sonically more at home at the likes of Rebellion than Bloodstock, Borstal remain a great morning booking for the sheer bluster and energy they bring to the stage, blasting off the cobwebs and blurring the line between hardcore punk and metal just as it was in the '80s.
Back in the Sophie Lancaster tent, Video Nasties aren't taking any prisoners. On record the band have the fury of second wave black metal fully behind them but live this is translated into some brilliantly addictive black'n'roll right out the book of Kvelertak and their ilk. A shirtless Damian Von Talbot sweats buckets as he stalks the stage like a predatory beast, underpinning the ferocious sonic assault with a sense of personality that feels altogether too big to confine to a tent. The crowd may not be as large as we'd like (likely owing to the direct clash with fellow British underground stars Conjurer), but those that do turn up are treated to a face full of blackened brilliance.
Few bands at Bloodstock have faced as much of an uphill battle as Wargasm. The band's electronica-inflected alternative is a million miles removed from the pure blood heavy metal some internet-dwellers would have you believe is Bloodstock's sole trade, but as ever the festival itself ultimately wins over. A delighted crowd cheer almost from the second Wargasm hit the stage, and the chant of their name mid-set banishes any notion of resentment. But if the crowd were approving of Wargasm, they are absolutely in love with Malevolence. Mosh pits aplenty mark a thundering hardcore set, the band's incorporation of groove, thrash and straight-up heavy metal proving a winning combination so far as Bloodstock goes.
One of the things we haven't missed with gigs and festivals being gone is the inevitable pain of clashes. Bailer probably share our ire for that mind, the Sophie Lancaster tent loosely populated for their thundering hardcore assault – most likely because Malevolence are on for a good portion of the set. Hardcore against hardcore? That's definitely a bruiser. Even with the similar hardcore bent, Bailer take a very different tack to Malevolence – where the latter draws on their metallic elements to expand the scope of their songwriting a la Metallica, Bailer use metal as extra heft in their knuckle-scraping assault on the ears. It kicks like a mule and snarls like a bulldog and we love the sounds, hints of Cancer Bats and Every Time I Die appearing in the mix. We're pretty sure we see Brady Deeprose of Conjurer roaring on-stage at one point, which makes sense given his appearance on 'Cruel Master'.
A few weeks back While She Sleeps put on a performance at Donington that could only be described as legendary, pulling easily one of the biggest crowds of the weekend and utterly dominating for their entire set time. The Bloodstock crowd is cut from a very different cloth however and though the band pull a decent audience, there's some notable drop off in demographics. They still set to the task at hand with exceptional vigour however, even if some parts of the set do feel a little… repetitive (the climbing of the sound tower felt transgressive at Download; here it feels as part of the set as the songs). Still, we can't argue when the band are letting loose with both barrels song-wise, the anthemic energy of 'Anti-Social', 'Brainwashed' and 'Silence Speaks' are absolutely colossal crowd-killers that in a more mainstream-minded crowd would absolutely cement their status as one of contemporary metal's hottest propositions.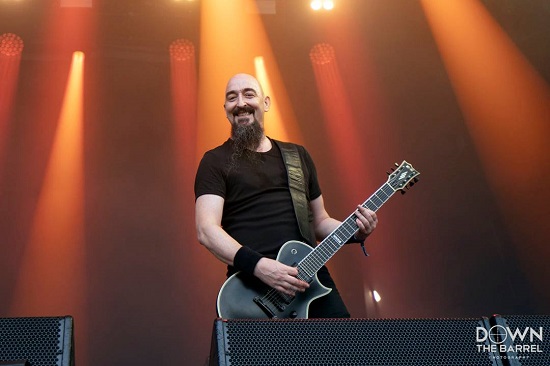 Playing an album in full at a festival is a bold move, but its one that seems to pay off for Paradise Lost. The grandeur of 'Draconian Times' lends itself perfectly to the main stage and we find ourselves soon sucked into the grim pace the band set. As nice as it would have been to hear material from 'Obsidian' (the album having not yet been toured due to the pandemic), seeing faces howl along to the likes of 'Enchantment', 'Once Solemn' and 'Shadowkings' suggests the notion of 'hits' is a subjective thing for a cult band so beloved as Paradise Lost. Ushering in the early evening (or more accurately, late afternoon), the band make a strong argument for how doom metal can truly transcend when given the right slot (and crowd).
There's no sense in straying too far when British extreme metal royalty Cradle of Filth are due to take the stage. If the band's 2019 return was a banishing of bad sprits conjured almost a decade earlier, their sub-headline spot in 2021 is an affirmation of their incredible significance to the British metal scene. Golden oldies (and god, does it hurt to say that) like 'Nemesis' and 'Nymphetamine' (fix, of course) recall the band's flirtation with the mainstream in the mid-2000s, but the sheer blistering intensity brought to bear by Dani Filth and co. ensures there's little question as to their underground credibility. The live debut of new song 'Crawling King Chaos' (from this year's upcoming Existence is Futile) is indicative of the band's capability to affix extremity to enormous anthems, weaving threads of symphonic grandeur, thrash thunder and raging black metal into a masterpiece that seems perfectly suited to big outdoor crowds.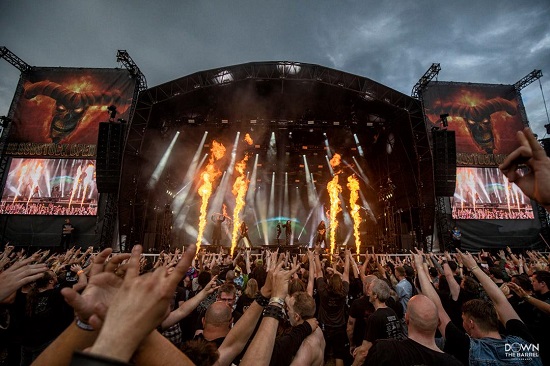 New member Anabelle Iratni is afforded plenty of opportunities to showcase her contributions to the band in the likes of 'Nymphetamine' and 'Her Ghost in the Fog', the band seemingly having found another vocal powerhouse. While Cradle don't indulge their penchant for theatricality with on-stage frippery, there is still a sense of spectacle to the set that makes it feel special – fitting, given that the band celebrate 30 years in 2021. Speaking of pedigrees, its with no small sense of excitement that we head over to catch Memoriam back in the tent. Pulling from death metal vintages like Bolt Thrower and Benediction, the band's menacing brand of death metal is exactly what the doctor ordered to carry us closer to Saturday's headliners. Rumbling like a war machine brought back to life, the band bring a sense of dread-filled inevitability that hits the spot just right. The chants of 'Birmingham death metal!' that permeate the air are enough to warm the heart, a reminder that there's more to the West Midlands than Black Sabbath and Judas Priest.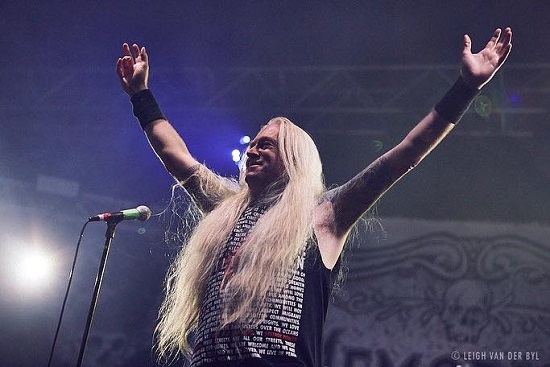 The last time Kreator played Bloodstock, they were sub-headlining to an end-of-'Meliora' Ghost. If you're wondering how easily they take to the transition… well, you don't get to become one of thrash's big-name bands for nothing. On paper Kreator's songs aren't as anthemic or widespread as the likes of Slayer, Megadeth or even Anthrax, but you'd never know it to see them headline Saturday night of Bloodstock. The crowd are absolutely ecstatic from the second the band take the stage, the permanent rumble of thunder from drummer Jürgen Reil lending a suitably apocalyptic air to the whole affair. As resolutely underground as it is, there are odd guitar lines in songs like 'Extreme Aggression' which side-step thrash almost completely, almost feeling like they wouldn't be amiss in late-70s stadium rock or even early hair metal.
The first couple of songs feel like a mere warm-up once the real fun gets started though – 'Phobia' is enormous, while 'Satan Is Real' is the kind of howling anthem that any band would kill to get in their repertoire. Fitting 14 albums' worth of thrash into a set – even a headline spot – is a thankless task, but Kreator do their damndest anyway. This does mean we often only get one or two songs from each record, but also reflects the fact that Kreator aren't relying on any breakaway successes – their career is built on almost 40 years of quality contributions to the metal pantheon. Even standalone track '666 – World Divided' feels enormous, particularly as the crowd's adoration does not wane as the set wears on.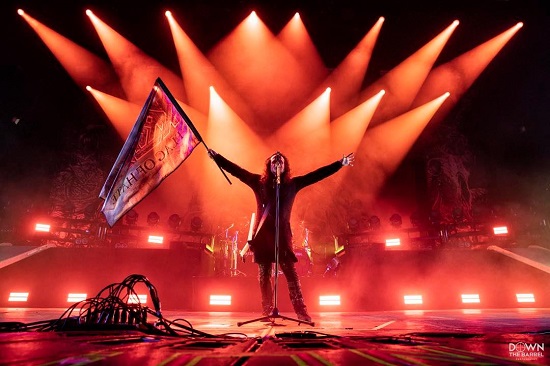 In many ways, Kreator are entirely indicative of what opportunities Bloodstock can afford bands that other festivals just can't. Put in front of 20,000 baying fans, the band live up to their legacy whilst pulling off a masterclass performance. A guest spot from Dani Filth on 'Betrayer' throws an extra spice into the mix, Filth's howls perfectly accentuating the blackened twist to the thrash formula that Kreator ply so well. Set closer 'Pleasure to Kill' offers one last blistering assault on the senses, a confetti cannon filled with streamers adding to a frenzied party atmosphere that perfectly suits how you'd want to close out Saturday night of a festival.
PHOTO CREDIT: Photographs courtesy of Bloodstock.
Bloodstock 2022 will take place over the weekend of 11-14 August. Headliners Lamb Of God and Mercyful Fate will be joined by Dimmu Borgir, Testament, Bury Tomorrow, Vio-lence, Philip H Anselmo & The Illegals, Sacred Reich, GWAR, Exodus, The Black Dahlia Murder, Static-X, Heathen, Bloodywood, Life Of Agony, The Night Flight Orchestra and Butcher Babies, with many more to be announced. Early bird tickets are on sale now.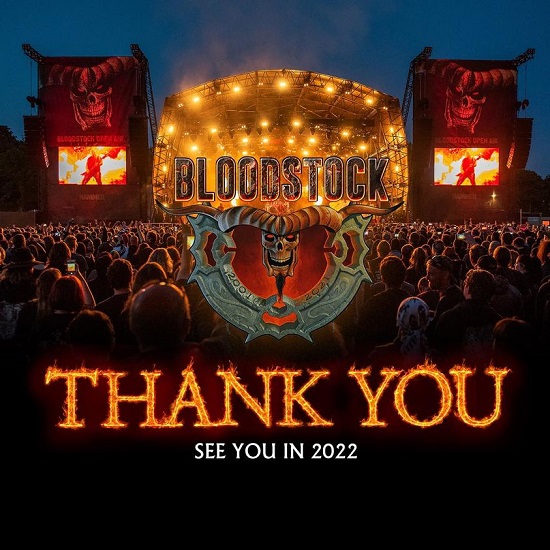 All content © Über Rock. Not to be reproduced in part or in whole without the express written permission of Über Rock.