By Phil Cooper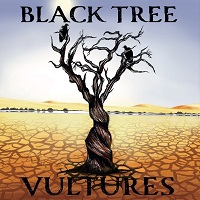 British four-piece Black Tree Vultures have returned with a follow up EP to 2018's debut effort 'Sanity Isn't Perfect'. This new self-titled release sees the band expanding on their take on a classic metal sound, a sound which has earned them a healthy buzz amongst critics and metal fans alike. After numerous tour support slots and shows following their formation in 2017 and initial release, the band were keen to get more music out to a wider audience. The result is three new tracks recorded live in the studio in an attempt to harness their full power. Has it paid off?
Opening track 'Bitter' is the single release from this EP. A gritty, overdriven blues riff greets the listener before the full band kicks in. As an opening track it packs a punch, the foot stomping groove echoes the likes of ZZ Top with its blues swagger only much heavier. The vocals of Celyn Beynon cut through the mix with a rough-edged clarity and match the feeling created by the instrumentation. It's easy to see why 'Bitter' has been chosen as the lead single for the EP, it contains a lot of classic hard rock and metal elements fused with a modern twist and delivered with great style.
'No More Empathy' features a more aggressive stance. Once more led by the guitars, a chopped, rapid riff takes charge with the rhythm section providing a pounding groove. The blues elements have been swapped out for a more traditional heavy metal approach. At times boarding on early like thrash sound with the rapid-fire guitar chords, raw vocals and intense rhythm. The track takes a twist with the guitar solo break down with the instrumentation shifting down a gear. The respite is brief however, as the crescendo builds drawing out more power from the musicianship and a heavy staccato sees the track to a crunching close.
'Ode to Johanna' opens with a tribal drum groove accompanied with overdriven guitars before breaking into a solid mid-tempo head banger. Jonno Smyth (drums) and Ched Cheeseman (bass) lock together to take charge of the closing track anchoring the relentless groove and allowing the guitar work of Aaron Hammersley to develop on the riffs with additional pinched harmonics and sweep through with overdriven attack. The heaviest track of the three on offer, 'Ode to Johanna' rounds out the EP excellently and certainly leaves the listener wanting more.
Production wise, the option to record live has certainly paid off for Black Tree Vultures. It's a bold route as it can lead to mixing issues due to any muddying and bleeding through microphones during the process. However, on these three tracks there is great clarity between each instrument and vocals. Each section of the song structure is identifiable and the parts that each instrument plays clearly evident. The vocals don't get lost in the mix and what has been created is a powerful recording. There's obvious evidence of the bands influences throughout these tracks, there's definite Metallica thrash vibes on 'No More Empathy' and 'Ode to Johanna' has some Sabbath echoes to the huge riff and powerhouse rhythm section. However, this is not a band that are merely trying to emulate artists that have gone before, they've taken their influences, shaken things up and added a unique twist that enables their originality to shine through. Both musicianship wise and with song-writing Black Tree Vultures are nailing it. The biggest criticism is that at only three tracks, there needs to be more!
'Black Tree Vultures' is released today (Friday 19 April). You can get your copy HERE.
Black Tree Vultures play The Anvil in Bournemouth tomorrow (Saturday 20 April) and then the following dates:
Thursday 25 April – London, The Big Red
Friday 26 April – Wolverhampton, The Giffard Arms
Friday 3 May – Paignton, BMAD Festival
Sunday 5 May – Crumlin, The Patriot
Saturday 18 May – Swansea, Hangar 18
Saturday 25 May – Derby, Winsterfest
Friday 31 May – Bournemouth, Canvas
www.facebook.com/BlackTreeVultures
All content © Über Rock. Not to be reproduced in part or in whole without the express written permission of Über Rock.