By DJ Monk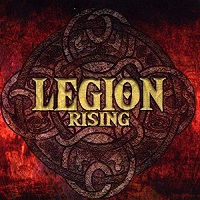 When the Dutch label Rock Company sent their latest consignment of CDs to ÜRHQ, they made a number of what would normally be fatal mistakes in terms of us even considering the releases contained therein for review (in fact, it's something they do on a very regular basis, which is why they get very little coverage in these here pages). First, there was only a simple cover note stating the names of the bands and the albums concerned, and their release dates: no biographical information or any other reference points, such as Facebook addresses or whatever. Secondly, by the time the envelope arrived, four of the five albums mentioned had already been released – one of them as far back as January (and the one which, incidentally, was not included in the package). Nevertheless, I was looking something to listen to in the background while I took care of some admin work and so slipped this, the only one – at the time of writing – not already released (it actually landed in stores yesterday)…
Interest piqued by what I heard, a little bit of CSI/Wikileaks-style investigative journalism was required to find out more, and this immediately proves to be an onerous task, as their Facebook page hasn't been updated in more than 18 months and a quick search of that wonderful resource, the Encyclopaedia Metallum reveals a listing of around 30 bands sharing the same name: and so it was that I finally tracked down more info on this transatlantic collaboration.  It's a real pity that the record company made the job so difficult, as what we are presented is actually a pretty good hard rock album from a collaboration of some very highly experienced and respected musicians, led by vocalist Phil Vincent (hopefully known to ÜR readers as the singer with Cranston, D'Ercole and Tragik, and whose latest solo effort was in the same envelope), alongside three former members of Bob Catley's solo backing band – in bassist Gavin Cooper, guitarist Vince O'Regan and keyboardist Irvin Parratt – alongside the latter's Escape/Pulse bandmate, drummer Andy Pierce.
The album kicks off with an emphatic thump as 'Nothin' To Me' gets in your face with its thick rumbling bass riff, before easing back slightly to showcase the band's ability to craft a nifty line in classy, melodic rock songs, with its driving riff, catchy melody, hooky harmonies and extremely effective vocals. Yes, it has all the ingredients you would expect from a high-quality band operating in this particular mien.
Each of the ten tracks is beautifully presented and balanced: big, meaty riffs and pumping rhythms pounding away in the backgrounds, while the harmonies and melodies soar over the top, Vincent's vocals topping everything off with equal measures of passion and power, not to say a healthy dose of rock 'n' roll soul. There are some true standout moments, such as the catchier-than- man 'flu 'How Does It Feel', 'Got A Line On You' and 'Shame On You', but there is not really one weak moment on this powerful album. At the end of the listening session which it takes to pen any review, I'm glad I made the effort and took the time to find out more, as this gem in the dirt would otherwise have passed me by and been consigned to the charity box with the rest of the package (although I've now dug out the aforementioned Phil Vincent solo opus). Definitely worth checking out – and you won't have to work as hard to track it down, as we've down all the work for yez…
'Rising' is out now. You can get your copy HERE.
https://www.facebook.com/Legion-527660674235682/
All content © Über Rock. Not to be reproduced in part or in whole without the express written permission of Über Rock.