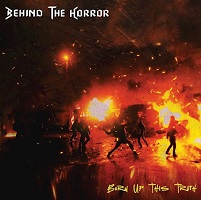 This album has definitely been hard-won. Ten years in the making, it arrives before us in spite of Behind The Horror's personal experiences of unsettling major life-changes, troubles, fights and upheaval.  The band are the Alves brothers, a duo originating from Brazil with Lucas on drums and Gabriel who tackles vocals, guitar and bass. As Behind The Horror, they have composed 'Burn Up This Truth', their first full-length release, from their current base in New Jersey. 
Like their debut EP '…And The Horror Begins', which came out way back in 2013, this offering is self-released and inspired by a combination of metal giants such as Brazilian counterparts Sepultura as well as by their love of the fantasy realm in games such as World of Warcraft (WOW). I like a wee Mage in Warcraft. Interesting…
The first thing of note after listening to the title track opener is that it's an old-school sound for a band that is advertised as modern metal. Heavy on the bass drum with the feet, you clearly get thrash metal from this but the guitar sounds veer between metal and rock n' roll solos. Gabriel's vocals lean heavier as he growls out the lyrics but at the break, weirdly, Guns N' Roses come to mind.
First single 'Storm Rage', is a nod, I assume, to Illidan Stormrage, a night elf from WOW who tries to fight the Legion but ends up making a pact with them, earning himself the moniker 'The Betrayer'. The song begins frantically in an odd and off-kilter staggering melody. I like Gabriel's lyrics when he sings rather than growls. The song grows on me, but on first listen it's a bit of a headfuck in the way the rhythm runs.
'Outland' was the second release from the album and begins gently with lightly touched guitar backed by high-hat whispers. However, things quickly get heavier and I'm reminded of Trivium, Iron Maiden or perhaps The Almighty. There is an epic instrumental section before an abrupt ending.
'Sky Seeker' has a different feel to it altogether. The vocals sound completely different and there's a clashing staccato guitar rhythm. 'Heroes Die Alone' progresses at breakneck speed. The incessant drumbeats can be impressive but they eventually, for me, become annoying, feeling a bit overdone and repetitive. It's not necessarily a criticism of Lucas' drumming but because there's only two musicians in the band I think that's limiting when trying to make the music diverse.  Finally, 'Into The Void' is probably the heaviest offering here. It conjures images of marching to your doom, no doubt head held high. Mostly instrumental it's an effective outro for a powerful album.
Despite the gaming references, this album is about losing someone you didn't realize the value of. The inevitable smack to the face of overwhelming emotion is something you are unlikely to be prepared for. The take home from 'Burn Up This Truth', say Behind The Horror, is the message to Never Give Up. The fact that the album is even here is testament to the determination and grit required to get music into the public domain, no matter what life throws at you and the Alves brothers, I'd say, have done a decent job.
Like the never-ending battle of the Alliance and the Horde against evil, whatever comes out of that portal, you must fight. In the words of legendary Horde warrior, Saurfang: "You cannot kill hope. Hope remains".
'Burn Up This Truth' is released today (Monday 10 August). You can get your copy HERE.
www.facebook.com/behindthehorror
All content © Über Rock.  Not to be reproduced in part or in whole without the express written permission of Über Rock.