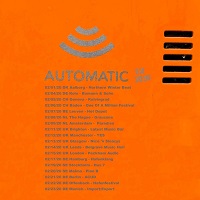 LA's Automatic venture into the cold British shores, coming to Manchester for their second UK date of the current tour. Braving the cold and the almost inevitable rail delays due to Northern Rail's inability to organise a piss up at a brewery, I head over for a night of rather more melodic entertainment than some of my more recent gigs. At least it's warm in the YES basement!
Little Strange play a quite melodic brand of indie rock, clearly influenced by the Manchester Britpop artists, with maybe a touch of some The Cure and similar thrown in for good luck. The six-piece barely fit on the snug basement stage, but they do manage to find enough to entertain us for their 30-minute set with some pretty catchy songs. Their set is tight, and the busy looking room take well to the music, with the guitars harmonising well with each other and vocals that are akin to if Ian Brown could actually sing well! There is plenty of applause both during and at the climax of the set, reward for a job well done.
Automatic take to the stage and quite quickly remind me in some ways of an almost minimalist Ladytron in their approach to music, synth, bass and drums comprising a melodic mix, with vocals that blend in to the music, occasionally drifting out into the fore front. The L.A.dies create an appealing sound and while they do not have the high energy that some acts do, there is definitely a certain something about them that just keeps you enthralled with their creations. The combination has a feel of Joy Division in some respects, mainly with the drum and bass progressions and tones that worked so well for Peter Hook et al and there is a real feeling of more than a kernel of something special among the trio, a sense of the music almost overwhelming you, despite not being overpowering in any manner. Highly effective post-Punk, with Halle's bass providing much of the focus.
I look around myself at the rest of the audience and it's clearly just not myself that has that almost entrancing feeling from the music, as bodies move and writh in the smoke filled room. All three are adept with their instruments and this shows among their quicker tracks as the drums especially require more than a touch of technicality about their playing, all of which is done with aplomb, while our closing song sees drummer Lola and Izzy share vocals in centre stage for once, while Izzy and Halle continue with their instruments to a recorded drum backing. The end is reached with no fanfare, clearly taking many others by surprise as well as myself, as there is almost a sense of 'Oh!' around the room, so spellbound were we that clearly no one realised 40 minutes had passed – indeed, I was only aware due to taking notes on my phone. An enjoyable set from a talented act and a good night of music all around.
The tour continues at the Belgrave Music Hall in Leeds tonight (Friday 14 February) and finishes at Peckham Audio tomorrow (Saturday 15 February).
All content © Über Rock. Not to be reproduced in part or in whole without the express written permission of Über Rock.