By Jonny Bakes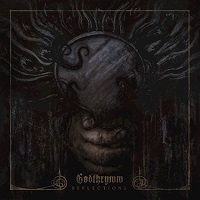 After a long, hard day most people like to relax and unwind with maybe a bath or a glass of wine (sometimes both together) but not this guy. Instead, I prefer to sit in a dimly lit room and stick on something particularly slow and doomy and just let the outside world slip away. Today it just so happens that Godthrymm has just what I'm looking for in their first full-length album, 'Reflections'.
The Über Kingdom has always been quite the goldmine for fantastic doom bands, and Godthrymm are yet another product of this rich gloomy heritage. Forming in 2017 with former members of My Dying Bride, Hamish Glencross and Shaun Taylor-Steels, Godthrymm released their belter of debut EP 'A Grand Reclamation' which laid the foundations for this monster album that lays before me now. To make this even more impressive, this album was recorded as a two-piece before the line-up was finalised post recording with the addition of bassist Bob Crolla.
Considering the pedigree of the band members (Vallenfyre, Solstice and Anaethema in addition to My Dying Bride) I had high expectations of this album and, fuck me, I was seriously not disappointed. This is a real throwback to earlier days of doom when the music was relatively simple, but as heavy as a… really fucking heavy thing. The tempo is slow, the riffs are heavy and the vocals of Glencross convey serious passion. I can easily see this transferring well into a particularly impressive stage performance that really must not be missed. And for those who are really keen you can catch the album launch show for this next Saturday (22 February) at The Unicorn in Camden.
The album starts with the rather mellow introduction to 'Monsters Lurk Herein' but it does not stay mellow for long, and quickly shows that Godthrymm are absolutely pulling no punches with this debut. This is a heavy start that sets a distinctly gloomy tone for the coming tracks, which is exactly what you would want in an album of this calibre. This certainly continues into 'Among the Exalted' which is driven by the relentless pounding of Steels' percussion to deliver an experience that will move and shake you. Slowly, of course.
If you thought things couldn't get any slower or heavier, you would be absolutely wrong. Kicking off with a couple of ominous couple of cymbal crashes you are quickly knocked off your feet with this heavy-as-shit bassline/drum combo that lays the foundation for the melodic guitar riff to just offer a little tease. That's what listening to 'We Are The Dead' feels like, and it's pretty damn great.
'Cursed Are The Many' comes across as a particularly emotive track with Glencross' vocals displaying raw emotive power that really sucks you in. It paints a really bleak picture of the perception of society where the few are blessed while the many remain cursed which is a fitting topic to accompany yet another heavy piece of brilliantly composed doom.
As debut albums go, this has been a particularly impressive one. I had high hopes for it when I set out listening to it and I was certainly not disappointed. If you have any interest in the doom metal scene, this has to be one of the albums you check out this year! It has everything I could want, and it manages this in such a simple, well-constructed manner. 'Reflections' will be making its way into my regularly played albums and I strongly suggest that it does the same for you. Even better, a convenient release date of February 14th makes it the perfect accompaniment for a romantic night in for you and a partner, or just you alone. I won't judge.
'Reflections' is released today (Friday 14 February). You can get your copy HERE.
All content © Über Rock. Not to be reproduced in part or in whole without the express written permission of Über Rock.