By DJ Monk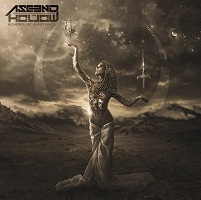 Back at the turn of this current decade, I came across a groove metal outfit from south of the border, down Dublin way by the name of Xerosun, when they released a hugely impressive debut album, 'Absence Of Light'. To say they made an immediate impression would be something of an understatement. Unfortunately, they failed to make a similar impression on their fist live appearance north of said border, playing to just three people (including yours truly, of course). All that changed a couple of years later when, with a re-invigorated line-up and much heavier sound, they returned to play a handful of packed out shows over the course of late Spring/summer of 2015. Another couple of years passed and a EP, 'This Dark Rage', emerged – and then silence… Well, now that has broken, as the Irish/Polish crüe have re-emerged into the light, in the guise of Ascend The Hollow, with an almost totally new line-up, another change in musical direction and this new opus.
Not that the band have completely abandoned their past, as they pay homage to it by re-imagining three of the tracks – 'This Dark Rage', 'Mother Of Morality' and 'Repeat Rewind Reset' – from that latter EP on this debut offering from this new incarnation. Which sort of beggars the question: is this a completely new entity, or merely a rebranding of something that had gone before but didn't quite reach the levels of success its creators had envisaged?  The answer lies somewhere in the middle, but one thing is instantly clear: whatever the reasoning 'Echoes Of Existence' is a clear and unequivocal statement of intent.
While the overall sound is much more industrial and progressive – with huge symphonic swathes and elements of Djent and EDM thrown in – than in the past, many of the musical miens will be familiar to long term Xerosun fans, especially in the distinctive vocals Martina Halas Yeates (now known as M-Noise), who is one of those rare artists able to switch between thick growls and almost operatic highlights with a simplistic ease, and Ger's growling guitar themes. Yes, the album is very much rooted in the band's past, but also sees them striding forward with confidence as they tackle the modern metal world head on.
However, if the music is hard-hitting, then the lyrics are even more so, as ATH are not afraid to lead us on a journey through the darker side of humanity. A major theme in the lyrical department is mental health, including depression and suicide, as evinced on opener 'Polaris Calling' (which addresses the issue of bipolar disorder) and lead single 'Prisoners Of The Storm', the latter with its message that our minds can be our own worst enemy and our most effective prison (something about which we know only too well here at ÜRHQ). Elsewhere, they tackle so-called "lunar lunacy" ('Sea Of Crises', soon to be the album's second single) and the last year's Irish abortion referendum ('Vessels', which also alludes to the words of William Butler Yeats and his poem 'The Second Coming').
'Echoes Of Existence' is a dark and forbidding album, but one which also shines a light for the redemption that addressing, and defeating, the darkness which surrounds us in everyday life. It is also a very powerful heavy metal album, which succeeds on almost every level: the only downside, for me, is knowing that the drums are programmed and therefore this make it difficult to listen to them with any form of commitment or detachment. Having said that, however, and as mentioned above, with this incisive and powerful debut, ATH have laid down a very clear marker which should help them to finally garner some of the attention they most definitely, and defiantly, deserve, especially in their homeland, if not the wider Überverse.
'Echoes Of Existence' is released on 7 June. You can get your copy HERE.
www.facebook.com/ascendthehollow
All content © Über Rock. Not to be reproduced in part or in whole without the express written permission of Über Rock.