By DJ Monk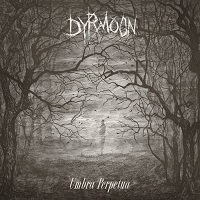 Dyrmoon are a mysterious new black metal project from Belfast, made up of just two members – Tempest on guitars, bass and programming, and Valtiel on vocals and samples – who coalesced around this time last year to bring the darkness to the heart of their native city (not that it needs much more of that, as it can be pretty grim here even at the best of times). From the scant information they have published online, 'Umbra Perpetua', which roughly translates as 'Eternal Darkness', if my memory of high school Latin serves me right, is "the second of three atmospheric projects" form the duo, with more apparently in the pipeline…
Atmospheric certainly is one adjective which can easily be applied to this six-track release, which clocks in at an epic 47 minutes. Dank, dark and claustrophobic are other descriptives which fit just as easily. But, there is nothing easy about the aural experience, as it's very darkness makes it an uncomfortable and challenging listen, as the sound is as thick and muddy as the River Lagan that flows through the heart of ÜR's beloved home city.
Not that this is in any way meant as a criticism, as nothing could be further from the truth. The sludge-encrusted mix adds to the density of the sound, and accentuates the fact that 'Umbra Perpetua' not only tugs at the most recessed shadows of your corrupted soul but also has you constantly looking over your shoulder, even in the broad daylight of a sunny Saturday afternoon, to see what demons are creeping up behind you (phew, it's only the missus!).
Belfast has a troubled relationship with black metal bands, with many having come and gone, often just as quickly, over the years, their dark lights flickering only briefly before being extinguished by the apathy of local audiences towards the genre, particularly in the live environment. However, with bands such as Drakonis starting to re-invent this aspect of the local scene, one can only hope that Dyrmoon can establish themselves as contenders for wider attention. 'Umbra Perpetua' is certainly a worthy statement of intent in that regard.
'Umbra Perpetua' is out now. You can get your copy HERE.
All content © Über Rock. Not to be reproduced in part or in whole without the express written permission of Über Rock.