By DJ Astrocreep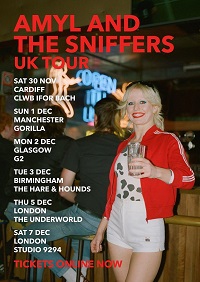 Another trip across to Manchester sees me continue the recent punk theme of my gigging with Aussie pub Punks Amyl and The Sniffers, on the second night of their UK tour, after the carnage of Metz the previous evening. Some good old-fashioned punk 'n' roll awaits in what seems to be lining up as yet another night of chaos. 
First on are local punk five-piece Organic Zip, taking to the stage to an old swing track. The crowd is starting to build as they begin to play and there are some big issues. We can barely hear the keys, nor her voice when joining in on vocals, as I have to actually listen deliberately to just about be able to hear her on both counts. There seems to be a general apathy from the band, no energy with the exception of the rhythm guitarist and a bit from the drummer and the songs feel and sound very generic, with two of them, played back to back, sounding identical musically.  These things combined, it's a performance to forget, a feeling that seems shared with most of the crowd as most seem bored and only a couple of heads nod.
There is a major shift with The Menstrual Cramps however, when they take to the stage next. All-female, politically charged and absolutely in your face, they come across like a true embodiment of the spirit of punk in both their performance and their lyrical content. Each song is a protest or a rant about topics that matter to them, be that fracking, 'Fuck The Tories' or similar and their song writing ability is both coherent and full of passion, the polar opposite of the previous act.
Frontwoman Emilia is a dynamo, never stopping on the stage, while each member is more than capable with their instruments and in providing vocal melodies and backing. They strike me as a band that could go far with the right push, their performance genuinely being that good and is embodied by the speech before the final track, naming some of the better known sexual abusers in the music industry which simultaneously makes me uncomfortable and angry that some of those named got away with what they did. While the mood may have changed dramatically during that speech, the applause is still loud and generous afterwards, earned well by sheer ability. It's also the most I have ever heard the word cunt used on a stage!
The Menstrual Cramps play Battitude 2019 at the Windmill in Brixton on Saturday 14 December.

Our headliners then, in Aussie pub punk heroes Amyl and The Sniffers, take to the stage to loud acclaim from the audience around me. The mosh pit starts immediately, and the stage diving and crowd surfing is a song later as the atmosphere turns absolutely electric, lots of shouting along and absolute chaos all around the room. Amy is an excellent frontwoman, another absolute dynamo who doesn't take shit when one particular stage invader accidentally catches a bit of equipment, literally throwing him off the stage despite being half of his size. The band are all mulleted, something I had not expected, and they are damn good at what they do – making very catchy, in your face punk.
'Balaclava Lover Boogie' gives us the most fucks I've heard in a song in the intro alone – eat your heart out, Fred Durst – while 'Control' and 'Monsoon Rock' are high points in a very high standard set, whilst we are treated to new track 'Guided By Angels' in yet another treat. The set seems to fly by – it feels like they've only just started when Amy announces the last song 'Some Mutts (Can't Be Muzzled)' instead of the hour it has actually been. The frenetic pace hasn't stopped at any point, keeping the crowd and the atmosphere at peak right the way through, which is another testament to the band as a whole and how engaging Amy is as a frontwoman. The set is an excellent live introduction to the band, for those that haven't seen them before, and a joy for those that have, not just repeatedly playing the same tracks. One of those nights you experience as much as feel.
The tour continues with sold out shows at the Underworld in Camden tomorrow (Thursday 5 December) and Studio 9294 in Hackney Wick on Friday (6 December) and Saturday (7 December).
PHOTO CREDIT: Photo by the author.
All content © Über Rock. Not to be reproduced in part or in whole without the express written permission of Über Rock.