By Jonny Bakes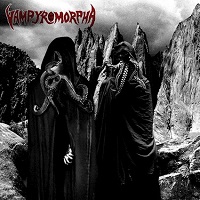 Today an album dropped in front of me that claimed to be "adult oriented doom metal" and I thought to myself, well, I'm an adult and I like doom metal! So, I decided to dig a little deeper into what Vampyromorpha have to offer…
Vampyromorpha have been on the scene since their inception in 2014 where they began their dedication to their self styled genre. They boast a sound that has been inspired by disturbing horror trash movies, dark horror stories and mental illnesses all against the backdrop of groovy doom riffs. 'Herzog' is the second outing from these guys and follows up 2016's 'Fiendish Tales of Doom' and we all know how difficult it can be to break the Sophomore curse, so let's see how Vampyromorpha measure up.
The first thing that stounds out is the deep groove that runs through the album making it very difficult to keep still while listening to this, even the hardiest of listener will struggle not not bang their head to this. The layered onto this are some spooky sounds from the Hammond Organ to add that horror element to the sound which hark back to trashy horror films. Finally to top off the sound that is distinctly Vampyromorpha, you have Jim Grant's vocals which have a disticntly whiskey-soaked southern metal flavour to them.
So, kicking things off with 'Darkness Whore' you're greeted with an ominous stringed introduction, that whisks you straight off to an 80s horror film that probably went straight to video. This is a real slow chuggy number that, I think, is a great way to start the album. Considering that Nemes Black carries guitar, bass and drums for this track, you could easily make the assumption that you've got a full band here as the mastering is pretty superb. I'd be very interesting to see how this plays out in a live performance with their live musicians!
'Cannibal Musical' (not to be confused with the Parker/Stone film about Alferd Packer) is such an incredibly groovy number that it had to get a personal mention. The combined rhythm of the bass and drums (both Black) in this track is incredibly infectious, it seemed to get underneath my skin and get my legs bouncing. It even managed to induce a bit of a Phil Anselmo pout with how heavy this track is!
Musician and Goth model Mallory Murdock guests on the track 'Waiting and Die' which provides a musical storytelling of the lasst days of the imprisoned girls in the house of child murderer Marc Detoux. Her vocals add some extra depth to the chorus on this track which makes it really stand out amongst the others. If the guys were ever to consider taking on another permanent member, I think they would do pretty well to take on someone with a similar vocal style to Mallory as it works so well here!
'Witchlicker' bounds in relentlessly with it's hard-hitting heavy riffs. To me this even has a bit of a Lamb of God vibe to it in its heavy-yet-groovy mannerisms. And if you haven't already been impressed with the multi-talented Nemes Black by this point, I guarantee you will be while you're trying to scoop up the remains of your face that he melts off with the solo in this song!
From the description, I was expecting something to be consistently slow and heavy, but I must say I'm more impressed with the groovy 40 minutes that I've just experienced. The band claim to take influence from Sisters of Mercy and The Damned, and I think this is pretty clear throughout the album, particularly with their strong almost punk-like rhythms and the gravely vocals can be reminiscent of Gary Marx although with a far more southern tinge to them.
You know what? I enjoyed this album so much that it's managed to sneak in as a late contender for one of my top albums of the year. If you like your music dark and groovy with some tinges of southern metal, then this will definitely be something that you should check out for your collection!
'Herzog' is out now. You can get your copy HERE.
www.facebook.com/vampyromorphadoom
All content © Über Rock. Not to be reproduced in part or in whole without the express written permission of Über Rock.