By Monk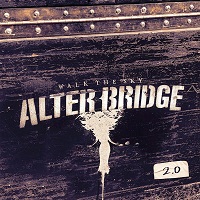 Alter Bridge are the first to admit that this mini album (for want of a better description) is most definitely a stopgap offering to keep fans interested in the band and their brand. Like a lot of acts, the AB boys found their global touring plans suddenly grinding to a stop when the beer bug pandemic gripped the Überverse and sent everyone scurrying for cover. With live music irrefutably the most missed victim of the ongoing lockdowns, bands have had to find new and imaginative ways of interacting with their fans – or just surviving. Now, this is not the most creative of those solutions, in fact it is something of a well-trodden path, but needs must when necessity calls, and thus we are presented with this, six live recordings of fan favourite songs from the band's last album, plus one brand new song, recorded within the strictures of social distancing…
Now, regular ÜR readers will know that I am not a massive fan of Alter Bridge – even though rather large photos of both Myles Kennedy and Mark Tremonti hang on our dining room walls: but, that's the Dark Queen's doing: she's the fan… big style! Even being assaulted by Kennedy's security team during his last visit to Belfast, and subsequently being barred from photographing his set at the same year's Steelhouse festival, has not diminished her love for the band and their music. And even I have to admit that they have their good points: both Kennedy and Tremonti are stunning musicians, each with a distinctive and immediately identifiable style; and, more importantly, they are an amazing live band. So, it seems only apt that they should fill that void left by a gigless society with this mostly live offering.
As I mentioned towards the beginning, there is one new song, and it is that which kicks off proceedings. 'Last Rites' is the heaviest song that AB have laid down in quite some time, characterized by an angry, broiling double guitar riff that, presumably, reflects the angst and the fury felt by the band during the recording. The opening chug from Tremonti, which is repeated in the bridge sections, is probably about as metal as AB will ever get, while Kennedy's normally liquid vocal contains an underlying snarl that I haven't heard since the band's first album.
The six live recordings – 'Wouldn't You Rather', 'Pay No Heed', 'Native Son', 'Godspeed', 'In The Deep' and 'Dying Light' – are more or less what you would expect from an AB live set: slightly heavier, slightly faster and very much louder than the album versions. But there is one thing that strikes me: the recordings were done in the ÜS, where Alter Bridge are much less of an arena-filling attraction than they are here in the Über Kingdom, or Europe as a whole, and so there is a sense of less palpability about these performances. A sense that the band have to work so much harder, and so much of the latent energy, much of the fun has been sacrificed to the need for technical precision and proving to ÜS fans that they can play the songs note for note:  "oh, Tremonti dropped a note during the solo" is not the sort of shit that concerns us here in the ÜK: we're too busy dancing to give a flying fuck!
You could argue about the choice of songs from 'Walk The Sky' that are included, and no doubt there will be such discussions, but that is one of the vagaries of a compilation such as this,  a release which has to be taken at face value. It is what it is: a stopgap, a fan-pleaser in straitened times when we can't actually go to our local venue and see our favourite bands live, but instead have to bring them, virtually at least, into our living rooms… Now, I better go straighten that photo of Myles before herself notices it's crooked…
'Walk The Sky 2.0' is released today (Friday 6 November). You can get your copy HERE.
All content © Über Rock. Not to be reproduced in part or in whole without the express written permission of Über Rock.