By DJ Monk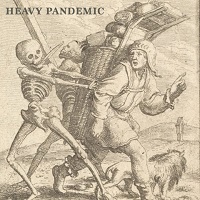 A new compilation album, featuring ten of the most promising underground acts from the ÜK and Ireland, is being released this coming Monday (1 June), with all proceeds going to NHS Charities Together.
The 'Heavy Pandemic: Ten Bangers For The NHS' sampler is being issued via Death Mask and Apocalyptic Witchcraft Recordings and features tracks from The Infernal Sea, Creature (whose bassist, Dan Willett mastered the compilation), From The Bogs Of Aughiska, Atarka, Ritual King, Crimson Throne, Ashen Crown, At Dawn We Attack, Burning The Padre and Recall The Remains.
Physical and digital copies of the album will be available, and pre-orders are available HERE.
'Heavy Pandemic' is the brainchild of Atarka guitarist Daniel McCarthy, who told us:
"With all plans for 2020 pretty much shelved, I decided to dedicate some time into putting out a compilation album, which essentially features ourselves, alongside some of the best up and coming metal and extreme bands that the UK and Ireland has to offer. I've been lucky enough to make some great friends in the industry over the past few years, and thought it would be a great idea for us to all collaborate and pool our abilities for something worthwhile, and everybody I spoke to was more than happy to oblige.
"We decided to release 'Heavy Pandemic' as a benefit sampler for NHS Charities Together. This pandemic has vividly illustrated the fact that other than democracy itself – there is not a single component of our society more valuable to us folk in the ÜK, than the NHS.
"I spoke to Conchúir O' Drona, an old friend of mine who runs Apocalyptic Witchcraft Recordings – he helped us massively with the distribution of our own album release. Having used to live in Oxfordshire, he has also benefitted greatly from the NHS, and being a label guy he was able to bring some more extreme bands to the record that we wouldn't have otherwise had. Dan Willett, a close friend, was responsible for mixing our own album, but also plays in one of my favourite bands, Creature. Dan happily mastered the compilation and offered up the track 'Fool's Curse' for the compilation.
"You'll seldom hear the words "NHS" and "heavy metal" used in the same sentence, but here we are. I've come to think of it as a way to give back to the community by putting something great together with friends."