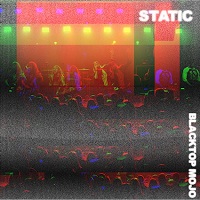 Coming out of small-town Texas, Blacktop Mojo's blend of rock is southern. That is, whiskey-soaked, blues- tinged hard rock. Apparently, that's known as "Texas Grunge" …  Now, the grunge I used to listen to was arguably fuelled by heroin, not whiskey, so I'm wondering what it is exactly that I'm going to hear.  Unlike myself, some will be well versed in Blacktop Mojo's unique sound. The band have been around since 2012. Founded by Matt James (vocals) and Nathan Gillis (percussion), the five-piece have released four albums to date: a self-titled mini-album and three full length albums, two of which, like the four-track 'Static EP', were self-released. 
Southern rock makes me think of heat, time and rocking chairs on the front porch and although opener 'The End' is in no rush to get where it's going, it's not what I expected. The song, about the breakdown of a relationship, is a building cathartic release of emotion, the raw opening of a wound. However, it never really loses control, even once it gets to the crescendo. The feel is surprisingly 90's rock and reminds me of Stone Temple Pilots but there's a nod to the essence of blues in the laid-back expressive tale of pain, rather than in the sound itself.
More tuneful than the rest in the chorus, 'Watch Me Drown' is like floating in water through the verse. About a time in life where James was unable to get out of his own head, it describes the inescapable loneliness and anger that arises when it feels like no-one understands much less cares enough to save you from yourself.
The gentle rhythmic acoustic intro to 'Leave It Alone' follows and persists throughout only ramping up in the chorus. It takes a few listens to get this song, it's almost too steadily rhythmic to get in to and you have to really listen to the lyrics. Though the sound is reminiscent in parts of Bon Jovi, the lyrics are deeper and more meaningful, full of soul. This is where Blacktop Mojo settles into the story.
The final offering 'Signal's Gone' is, for me, by far the best, whether it's the plucked guitar rhythm or rich, warm vocals that begin to crack and break with emotion as the static moves in, it ends on fading feedback as the band make their exit, story told.
And what a story. There may only be four tracks here, but 'Static' is clearly very personal. There is a certain respect to be gained for the level of honesty here because through shared personal experience there is the opportunity to connect and form understanding. For that reason, many will connect with Blacktop Mojo through this EP, "Texas Grunge" or not.
'Static' is released today (Friday 29 May). You can get your copy HERE.
www.instagram.com/blacktopmojo
All content © Über Rock.  Not to be reproduced in part or in whole without the express written permission of Über Rock.