By Monk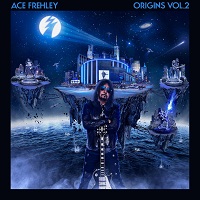 To be brutally honest, albums of cover versions are not normally my thing and tend to sink my boat faster than that iceberg ripped a hole in the side of a certain Belfast-built ship. But, when said album comes under the banner of the original 'Spaceman', Ace Frehley – widely regarded by many fans as one half of the only two original members of Kiss who could actually play their instruments – then you sort of feel you have to sit up and take notice… or at least give it a cursory spin… which, to be honest, is all this latest collection deserves.
As its title suggests, this is the second full album of covers from Frehley, seeing the guitarist once again extrapolate his penchant for paying homage to his heroes and influencers and assembling, for a second time, a star-studded cast of friends and like-minded musical souls to… well, quite frankly, bore the fucking tits off us with a collection of mundane and generally lifeless reinterpretations which, if they had been presented by someone with a lot less notoriety or pedigree than the Ace man, would probably have been consigned straight to the bin by the record company's "talent" team.
The choice of songs is fairly predictable, with tracks from Led Zeppelin. Deep Purple ('Space Truckin' is saved only by Rob Sabino's affectionately recreated organ lines), The Beatles, The Rolling Stones and The Kinks. Yes, there are a few surprises, such as the choice of 'Politician' from Cream's back catalogue and the actually rather interesting reworking of Paul Revere's 'Kicks', but otherwise there is little to keep you from constantly hitting the "skip" button – apart from, quite possibly, the fact that Humble Pie's '30 Days In The Hole' features the last ever recorded performance from Robin Zander. But, sentimentality alone is not enough to save this mundane and unappealing collection.
'Origins Vol 2' is out now. You can get your copy HERE.
www.facebook.com/officialacefrehley
All content © Über Rock. Not to be reproduced in part or in whole without the express written permission of Über Rock