By Jonny Bakes
Over the past decade, Canada's Unleash The Archers have been slowly and steadily building a reputation as being one of THE rising forces of the international power metal scene, not least since the arrival of vocalist Brittney Slayes. It is a reputation that was firmly cemented by most recent album, 'Abyss', released this past August. There is no mistaking that it is an absolute beast of an album, and one worthy of all the positive feedback which has been fired its way.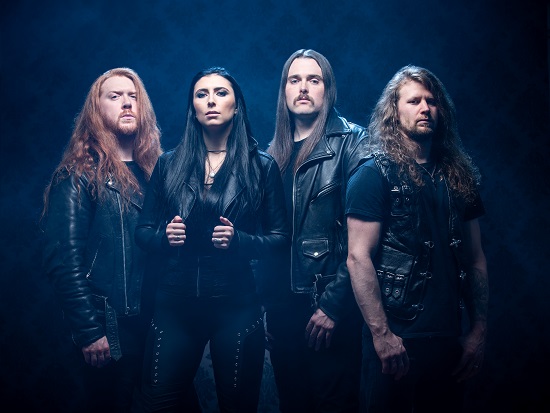 So, having spent weeks immersing myself in its utter gloriousness, I jumped at the chance to have a quick chat with Ms Slayes about the album, it's characters and story and how both the band and the Canadian music scene have been coping with the wave of lockdowns in the wake of the continuing C-19 pandemic.
With 'Abyss' forming the second part of the story laid out in 2017's 'Apex', I started by asking if it always was the intention for the story to span over two albums, and what was the inspiration for the Immortal and Matriarch characters?
Yes, it was always the plan to do two albums that follow one story. The story for both albums was written at the same time, for the most part. In 2016 I wrote out a general overview for both records, and then broke those overviews down into 'track-by-track' explanations when it came time to write the music. Then the boys wrote the guitar riffs using the track-by-tracks to ensure that the music reflected the story as closely as possible. Once we had everything written and arranged I wrote my vocal melodies and lyrics at the very end.
The Immortal is our tragic hero and The Matriarch is our all-powerful villain. They were both inspired by some of my favourite fantasy and science fiction films, comics, books, and video games. The Immortal was visually inspired by a character from the comics East Of West called Wolf, who is very much your typical lone-wolf type. The Matriarch was conceptually inspired by Queen Bavmorda from the movie 'Willow', with a bit of the traditional '80s corporate villain thrown in for good measure 😉 Then I just let the way these two would interact and react to one another determine the story!
'Afterlife' is the final track on Abyss, but does that make 'Afterlife' a definite end to the story, or is there scope to further the story?
'Afterlife' is the end of the battle between The Matriarch and The Immortal, but it doesn't have to be the end of The Immortal. I purposely left it open so that we could come back to him one day if we wanted to. He has control of his destiny now, so he could go anywhere, do anything. I am going to take a break from his story for a while, but that doesn't mean I won't do a sequel or a prequel sometime in the future!
You clearly put a lot of effort into fan engagement through many different means. Is there anything else in the immediate future for fans to look forward to?
We hope to put out another music video or two, plus I think we will probably do another livestream in the spring. Not sure what we'll do to make it special, but we'll think of something! We have also gotten ourselves a Twitch channel that we hope to hang out on a bit with our fans, maybe do a Q&A or some informal jam sessions!
With the 2020 festival season being a write-off, it means that UK fans will have to wait until 2021 for your Bloodstock appearance. However, it did open an opportunity in the form of the European Metal Festival Alliance online stream in which UtArchers performed an intimate set from the studio. How did you get involved with that? And how does it feel to perform a virtual show with limited/no immediate feedback from the audience?
Bloodstock invited us to take part being that we were supposed to be on the bill for 2020. It was super fun! Performing for cameras is not nearly as fun as a real show, it was actually extremely weird, so hopefully the pandemic will be over soon, and we can hit the road for real. We did our best to put on an entertaining show though! We were excited to bring everyone into our jamspot and just have an all-round good time!
Considering everything that has been going on this year, it is putting a lot of strain on the entertainment industry as a whole. How is your local music scene in Vancouver adapting to the situation?
Our major local metal venue (The Rickshaw) has done a great job adapting actually, they have a ton of livestreams booked with a bunch of local bands of all genres. They did our 'Abyss' album release stream back in August, and we were actually the first livestream show they did. We shared the proceeds of the stream with them, and hopefully gave them a bit of promo so they could book other bands in there as well. I think local bands everywhere should team up with their favourite venue and do livestreams; even though they are not nearly as much fun as real shows, it's our job to keep music alive for fans all over the world during this dark time.
Some artists have a particular pre-show routine or ritual, for example Johan Hegg of Amon Amarth has a pre-show yoga routine. Is there anything particular that you do to get yourself prepared to hit the stage?
My vocal warmup is super important, so I try to always take the time to do that. It helps to have a place where I can be by myself and really give it my all, but I also like to take the time to have a breather before I hit the stage. Sometimes getting ready before a show can be pretty stressful, so it helps to slow down and have some time alone, but that isn't always possible of course, so I have gotten really good at hitting the stage with little to no prep time as well, ha ha ha.
Over the last year or so, we've seen collaborations between different artists on Napalm Records (Nanowar of Steel/Gloryhammer and Grave Digger/Russkaja to name two examples). Is there anyone on the roster that you would be particularly keen to collaborate with?
I think it might be fun to do something with Gloryhammer or Wind Rose. They are both awesome bands that fit with our aesthetic, plus they all seem like really nice people; could be a good time!
Finally, just for a bit of fun – The Bill and Ted reboot… Excellent idea or totally bogus?
Ha, ha, ha, ha. I watched it, it was pretty bad, but I still enjoyed it! Love the originals of course, so it was mostly about the nostalgia more than anything!
'Abyss' is out now. You can get your copy, and loads of other UTA goodies, HERE.
www.facebook.com/UnleashTheArchers
All content © Über Rock. Not to be reproduced in part or in whole without the express written permission of Über Rock.