By Jonny Bakes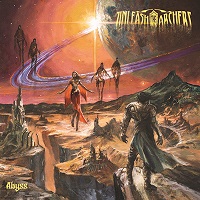 You know how it goes sometimes, you find this new exciting band that you can't wait to force your mates to listen to then you follow them through the years until they do one of two things – they either fade into obscurity or they hit their stride and make it big. That's exactly how I felt when I stumbled across a video for a song called 'General of the Dark Army' by Unleash The Archers nearly ten years ago and I was completely blown away by the power of Brittney's voice. I'm glad to say that this is a band that has absolutely gone from strength to strength, particularly this year with Napalm Records picking them up to release their hotly anticipated fifth album, 'Abyss'.
Hailing from Vancouver in Canada, Unleash The Archers have been belting out some serious power metal hilts with vocalist Brittney firmly at the helm with her simply outstanding voice. This combined with the bands focus on connecting with their fans through many unique ways (anyone remember The Witcher read-along sessions while they were on tour?) has resulted in the band becoming pretty successful to date, evidenced by a confirmed Sophie Stage slot at Bloodstock 2021. But enough about me gushing about how much I like this band, let's see what lies deep in the 'Abyss'.
If you've listened to any of their previous albums, then you will already know what to expect. This is completely on brand for UTA, and frankly it's pretty fucking brilliant. From the first notes of the introduction to the final note on the last track, 'Abyss' grabs you by the ear holes and demands your undivided attention. Whether it's Brittney's vocals that grab your attention or you manage to divert your attention to all the other awesome shit going on, like Scott's blasting drum rhythms or even the fairly rare appearance of clean male vocals in addition to the customary growls. There's plenty of points on the album that will translate well into live perfomance, with Iron Maiden-esque "Woah-oh's" to really encourage some good old-fashioned audience participation.
Leading singles 'Abyss' and 'Soulbound' had already built up a huge amount of excitement, and I was curious to see how the other tracks would stand up to these singles and the good news is that they're at least on par, possibly even better. It's difficult to pick out any particularly stand out tracks, but there's a couple that did grab my attention for being a little bit different.
First of these is 'Legacy' which feels like a bit of a mash-up of genres, particularly if you focus on the drums. Now this is something I've noticed about Scott's drumming before, he has a way of picking out drum rhythms that would be a perfect fit in other genres but somehow manages to get them to fit perfectly in a song. In this case, it's a very distinctly black metal blast beat that is somehow shoehorned into one of the gentler tracks on the album. Considering the mix of styles, everything gels together beautifully to make 'Legacy' a seriously powerful track with almost soulful vocals and incredible melodic guitar solos.
The other song that really stood out is 'Faster Than Light' which is a song that I bet Yngwie Malmsteen wishes he wrote. It's got a fantastic noodly guitar driven introduction, a belter of a scream from Brittney and a catchy chorus with a general rhythm that encourages an involuntary sweep and grab movement as you listen to it. There's clearly a lot of passion behind this song, and it shines through in the music as every single member seems to be playing out of their skin for this one!
Well, overall, it's another clean sweep for these Canucks. After their EP 'Explorers' landed a slot in my top five EPs last year, there's an incredibly strong chance that 'Abyss' will make an appearance in my top albums of 2020. Unleash The Archers have continued to impress with each album they have released and being signed to a major record label should finally give them the global recognition that they deserve. Often I would tell you that this is for fans of "X-band" but on this occasion I won't because I think everyone should give this album a listen, particularly if you're already a fan of the genre.
'Abyss' is out now. You can get your copy, and loads of other UTA goodies, HERE.
www.facebook.com/UnleashTheArchers
All content © Über Rock. Not to be reproduced in part or in whole without the express written permission of Über Rock.