By Jase Walker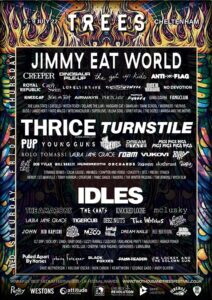 After a bit of a bump on the noggin last night that sent me to bed a bit earlier than normal, I'm up bright and early to catch Defects on The Cave stage. After seeing these pop up as supports on the most recent In Flames tour, they piqued my interest so here we go!
Their singer's uncleans remind me very heavily of Corey Taylor's, guttural and aggressive, especially the more rapid fire parts. He's got a hell of a high range as well that he jumps back and forth with, quite a significant difference! I'm loving these grooves they're belting out too, mixed in with some good melodic hooks here and there, I'm pretty sold on them already. Their singer at one point jumps into the middle of the crowd to go stomping around while singing, fully intent on making their presence felt at 2K Trees. Some fantastically meaty riffage to get the day started, definitely getting my ears around their stuff when I get home!
After a break it's time for Nova Twins at the main stage. These funky punky rockers are absolutely in my top bands at the moment, so I wasn't going to miss a chance to see them again! Admittedly I wish the bass was a little stronger as the drums overpower it a bit. They're fully in the 'Supernova' tour cycle now and really going in with the bangers from it. They've drawn in a pretty massive crowd as well for such an early main stage show which is testament to how far they're reaching lately. I really cannot get enough of their fusion of styles ranging from punk, to hip hop, to EDM, all thanks to inventive use of effects on the guitar and bass as well as great songwriting.
'Cleopatra' goes down a storm with people around me singing back the words and getting into the groove, especially on the chorus. Another banger, 'Choose Your Fighter', I've talked about this song pretty extensively and it's just a ridiculously good song and seeing the response from everyone else, they're in agreement. Nova Twins have yet again put on a fantastic show, seeing them climb up to larger stages like this is a real treat and they deserve every bit of it.
I've been forced to take a bit of shade as the blazing sun is wearing me down and I can feel a bit of sun stroke setting in but so I don't miss some music, I've ended up at The Forest Sessions stage. Good for some shade and a bit of a sit down and listen to Ginger Wildheart. Nothing like cooling off in a forest to the sound of a good bit of rock 'n' roll. I think I really needed this after such a busy weekend, nevermind the previous ones!. It's just at the right volume to sound solid but not ear piercingly loud so I'm all nice and relaxed in my camping chair and enjoying the show.
Ginger sounds fantastic: the vocal harmonies, the easy to listen to rock, the amazingly balanced sound, it's just lovely to kick back with a can and listen to. Also including a cover of Queen's 'Fat Bottomed Girls' for a bit of a singalong.
Sticking around because the sun is still brutal, next up is Twin Atlantic. I've heard many good things about these but for this set it's a stripped back acoustic set rather than a full band setup. The crowd is absolutely bloody stuffed, the entire forest sessions area is packed all the way to the back. For the most part other than some low murmuring, the crowd is almost completely silent when they're playing which is a fantastic show of respect for them. Given that I don't know anything of their material, this is a really lovely show to sit and relax through despite the rammed audience area.
This has been a great break from the main arena, admittedly I've missed a few acts I intended on seeing before coming but I didn't want to overdo it and end up running out of steam before You Me At Six and Press to MECO.
So, with my energy recovered a bit, I'm back to the main stage for You Me At Six, a band that I've somehow managed missing countless times over the years so I suppose 2K Trees is as good as it gets for an introduction! This sort of stuff is ideal music to dance away to considering the weather, it's fun, joyful and going by the audience, easy to sing with. They sound great too, all the levels for each part of the band are bang on, just enough grunt to push the rhythm along while supporting the melodic hooks and vocals.
I'm surrounded by an army of people going wild to You Me At Six, their energy is infectious. I've definitely heard a number of these songs in passing at nightclubs or on playlists, some of which I didn't even realise were them! They've got a clearly well-honed stage performance as well, displaying every single year of hard work they've put in over the years. Stylish and professional, but at the same time brimming with attitude. What a real class act they are, little wonder they've been at this so long, class act.
So, originally I was planning on Press to MECO, but I've decided at last minute to go do something a bit different by storming back to the Forest Sessions for CLT DRP. I've heard these a few times before and something about the noisy, angry as fuck, shouty stuff caught my attention and I don't think I've got another chance to see these this year. Just as I'm walking up I'm greeted by a cacophony of screaming and banging drums, exactly what I came here for. Coming off as a mashup of punk and Aphex Twin styled discordant electronic noise, their singer looked like they're ready to scream the whole place down!
I definitely can't think of any band that I listen to that they sound remotely like, some sections are outrageously heavy and overwhelming, others have dark, brooding almost NIN-like. Definitely not your typical band in the way of many others at 2k trees this weekend, but really bloody interesting to see live. I'm quite glad I made the swift journey over here to catch this, another fantastic find for the weekend.
Sticking around for Halflives, as again they're another band I've seen around for years but never actually got round to seeing. Sadly as they take the stage, it dawns on me that this isn't actually Halflives but a last minute replacement! But this is why I've decided to divert from my original plans, I figured I may as well try and find something brand new to me! It's a little disappointing to see relatively few people here for them but I suppose the draw of IDLES is quite strong. I don't regret my decision for a moment, this energetic punk rock vibe is great, big fat riffs and massive energy, the Forest Sessions stage isn't just for acoustic shows!
These guys are a bunch of young lads playing punk that pays homage to many of the greats that came before them, and I'm still happy that I've seen something a bit different (for me) at 2000 Trees towards the end. A little bit of quick googling based on a song name, I found the band name, BlackWaters! Thanks guys, it was a pleasure watching you!
This draws to a close my first time at 2000 Trees, and what an incredible and spectacular festival it's been. It's wonderful to have been able to come and experience a festival that focuses so much on the up-and-coming bands from around the world with a real eclectic selection to boot. The size of it is perfect, even the headliners on the main stage have a breathable crowd that doesn't feel like risking constant crushing compared to some of the bigger events. I think the link between the main stage area and the axiom area could be a bit better as it gets squeezed very easily but that's a minor issue.
There's not a shred of doubt in my mind that I'll be back here next year, this has been one of the best festival experiences I've had in years!