By Jase Walker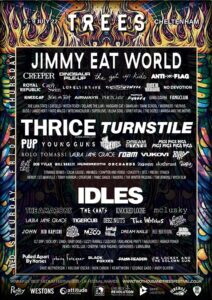 It looks like I haven't totally lost my voice after singing along to Jimmy Eat World and following it up with three hours of the silent disco, whoops. Nevertheless, I managed getting up early (well, the heat forced me up), got a quick shower and I am ready to take on Friday.
First up today is the bloody terrifying Heriot on The Cave stage, can't see this hangover wanting to stick around much after Debbie starts screaming at it. Not going to lie, I've been following these around a bit since seeing them supporting Roll Tomassi and this is my fourth time this year seeing them! The dreamy intro is immediately replaced with a cacophony of grinding, furious riffs. Easily one of the fattest sounds of any band I know barring maybe The Ocean but stands out as the most aggressive that I listen to currently. Debbie screams like a bloody banshee, matched by the grim bellows of their bass player.
You really shouldn't be sleeping on this band if you're even remotely into heavy fucking shit, incredible band.
After some quick eats, over to the Axiom stage for a band that very accurately sums up the sort of music I'm massively into right now, pop-infused metal outfit Chapter And Verse. Right from the start I can hear and feel the bass loud and clear, but not at the expense of the rest of the band – excellent. Harmonising vocals, bouncy rhythms, catchy riffs, they've got the right combination to deliver music that's energetic and heavy but also easy to sing back. The whole set I'm genuinely stuck on whether I want to headbang or bust some fantastic shapes out so I'm kind of trying to do both instead!
Their vocalist stands on the shoulders of giants with his singing style, his vocal melodies and range pays homage to the pop greats of the last decades. All the while backed by a band that understands the brief, knowing when to go hard and when to add in delicate fills and licks. Finishing up with my favourite, 'Medicate Me', what a chorus. Great set!
Jumping over to the main stage for a band I've seen all over the place, St. Agnes. This is my first time seeing and hearing them so it's all new to my ears. These are some killer riffs, I was admittedly expecting something a bit more metalcore given the lineups they seem to pop up on but I'm not going to complain about a good solid slice of heavy rock. The lead vocalist has an incredible voice as well, reminds me a lot of the likes of Joan Jett. Everyone's moving around constantly on stage, always fantastic to see a band that's animated like this. One thing I was not expecting was to hear a cover of Prodigy's 'Firestarter' but I am fully here for it!
Later on, I'm back at the Cave stage to make up for missing most of Slow Crush at Outbreak due to a bad clash. I loved what I heard so I wasn't going to miss a chance to see a proper set from them. At the start it seems the drums are way too loud in contrast with the rest of the band, the atmospheric elements of everything else is overpowered by them. This doesn't last long thankfully as soon enough, the rest of the band is brought up in levels and overall sounds far better.
Shoegaze is such a wonderful genre as it takes the best bits of post-rock's "build to a swelling crescendo" and adds in melancholy, dreamy guitar and vocal layering. Each song is a slow and inexorable march to the (albeit beautiful) peak, the sort of thing you could close your eyes and just get lost in the music to. I'm still gutted I missed most of this set at Outbreak but being here to take them in properly has been a wonderful experience for the most part. The drums were still a bit too loud but they've definitely jumped onto my "don't miss live" list.
Back over to the Axiom stage for another big draw for me this weekend, Rolo Tomassi. Following a trend this weekend of opening up with the big bangers, they go straight into one of my favourites, 'Drip'. Rolo Tomassi are a visceral assault on the senses, remarkably aggressive and relentless. The softly spoken Eva I had a brief chat with earlier isn't here right now, the Eva on stage is stomping around like a woman possessed. A mainstay within extreme metal circles, there is rarely anyone you'll come across that doesn't at least know the name and it's not without remit.
Considering the heat is sapping my energy a bit I have no idea how the band are able to keep a show going as high energy as this. Rolo Tomassi always astound me with how complex their music is, smash cuts between completely different rhythms and timings, as well as guitar, keys and drums playing incessantly busy fills. Just seeing this sort of stuff live, it's plain why Rolo Tomassi have had such strong influences on bands that have appeared in their wake.
I've decided to have a quick nip over to the main stage to catch Boston Manor as I've heard a lot of good things about this from friends. I don't think I was quite expecting them to be this effects heavy! They sound bloody huge even as far back as the nearby bar, the bass is rumbling through the floor and despite the wind blowing the sound around a bunch, it sounds great. Their crowd work is fantastic too, they've actually got a circle pit running around the sound desk!
I can see why some people say they've got a prog slant on their sound, one of the new songs they've done today actually strikes me as having a similar vibe to Northlane. I feel a bit annoyed at myself for sleeping on these for so long, and no doubt when I inevitably rinse their back catalogue, I'll be kicking myself for not being more into them today.
As we draw into the later part of the day, it's time for Turnstile on the main stage. Considering how great these were at Outbreak, I figured it'd be rude to skip these out. I don't think the crowd is going to be any less rowdy, although probably no stage diving, going off the crowd surfers down the front and the sea of waving arms that ridiculous energy is still there! Turnstile are a band that's not keen on standing around in one spot, each of them flings themselves around the stage, barely missing each other.
The audience hangs off every single thing their singer commands, arm waving, cheering to him raising the microphone, singing along to the chorus, he's got an incredible hold on everyone. The front of the audience is an almost constant sea of waving arms and bobbing heads losing their mind to Turnstile. I barely know this band in comparison with many people here but I can feel myself drawn in with the energy they put across on stage. They blew me away at Outbreak, and they've done the same here, Turnstile really are a fantastic band that can appeal to so many different people.
Next on the list for me is Vukovi, the Glaswegian pop rock/metal pair who I've been enamoured with since my first listen to their Fall Better album and subsequent show at Hyde Park Book Club in Leeds. I made a promise to Janine earlier that she'd see me crowd surfing but given I've gotten myself a rather fantastic spot dead centre at the barrier I might have to skip on that! Within moments of them starting, the crowd surges forward and I'm pinned against the barrier, I don't think I'd have it any other way though!
So early in, and Janine has already stood up on the barriers quite literally in front of me, I'm crushed but having an amazing time already! I'm having to take some real quick notes given the amount of people coming over my head! The sets pounding along at breakneck speed and the crowd surfers are incredibly intense. I did take a bit of a nasty smack on the top of my head but all seems good from a quick check! The ferocity of this crowd is incredible, and I'm caught right in the middle of it! Vukovi are definitely keeping the security guards busy! On a slightly more bizarre note, there's someone now in the central pit dressed as a fridge. No sooner did I type that didn't the bloody thing crowd surf right on my fucking head. Mint show though.
And to finish the day, it's time for a bit of Thrice playing their 'Vheissu' album in full, not a show to miss given how rarely bands ever do these kinds of shows. Admittedly it's one of the albums I'm less familiar with, but with a band like Thrice with a pretty expansive back catalogue, missing something like this isn't something I'm willing to pass up. The sound is outstanding as well, each part of the band is balanced amazingly well. It strikes me as odd how the sound isn't overpowering or piercing given that it's still pretty loud too.
Powering through this album it strikes me how proggy it is, odd time signature shifts and unusual chord progressions all over the place. I know they get slapped with the post-hardcore label but I think it does the overall sound of Thrice a bit of an injustice. Thrice are putting on a truly grand experience with the choice of covering this album in its entirety. A real unique and interesting show that is unbelievably engrossing despite my unfamiliarity with the material they're playing.