By Jim Rowland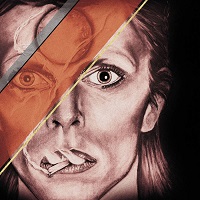 In case you hadn't realised by now, David Bowie's iconic 1972 classic 'The Rise and Fall of Ziggy Stardust and the Spiders From Mars' is fifty years old this year. Following on from last year's '50 Years Later' tribute to Alice Cooper's 'Killer', Pale Wizard Records have given 'Ziggy' a similar makeover, assembling a cast of underground hard rock, stoner and psych artists to give it their best shot at taking on each of the album's 11 sacred songs, plus a few bonuses for good measure.
The advantage of taking on an "all killer no filler" album like 'Ziggy Stardust' is that you know every song is a classic, so it's just a matter of each contributing artist's interpretation being up to scratch to make something like this work. And despite the fact that you'd probably be hard pushed to have heard of all of these bands, on the whole this album does work.
For me, the best cover versions are the ones that really push the boundaries, bring something new to the table and take a song into a very different place. So full marks to Redshift for their crazy psych-pop/thrash metal fusion on 'Ziggy Stardust', Possessor for their punk/sludge take on 'Hang On To Yourself', Mother Vulture for their dark and heavy interpretation of 'Starman', and Kong Social for their atmospheric and dreamy version of 'Rock'n'Roll Suicide'.
Sail's 'Five Years' and Suns Of Thunder's 'Star' are both very decent, and different enough, interpretations, whilst Son Of Boar's 'Soul Love' and Raging Speedhorn's 'Suffragette City' take the straight forward "let's just make it heavier" approach. Playing it safe are Tony Reed's 'Moonage Daydream', Deltanaut's 'It Ain't Easy' and The Lunar Effect's 'Lady Stardust', which don't veer too far away from the originals but are decent enough.
You get three bonus tracks as well, with a further three Bowie covers of songs not on the 'Ziggy' album. Of these, Sergeant Thunderhoof's heavy garage rock version of 'The Jean Genie' is the best of the bunch, whilst Bitter Kisses' 'Ashes To Ashes' sounds like an early Duran Duran demo best left in the incinerator.
'Ziggy Stardust: 50 Years Later' is an interesting and fun, if not essential, listen. I just wonder how many times you're really going to listen to this if a copy of the original Bowie album is lurking at arm's reach.
'Ziggy Stardust: 50 Years Later' is out now. You can get your copy HERE.
All content © Über Rock. Not to be reproduced in part or in whole without the express written permission of Über Rock.