By Jase Walker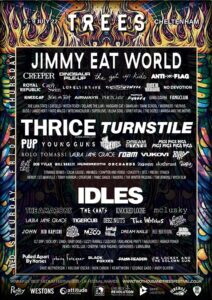 Well after a somewhat troublesome trip down I've finally gotten pitched up and sorted but sadly missed some of the bands I intended to catch this weekend already which I'm gutted about.
But beginning the weekend with Holding Absence is something I wouldn't pass off. After rushing from camp realising the time, I've gotten in just in time to see them kick off with 'Alive'. Holding up the next era of Post-hardcore alongside the likes of Static Dress, Holding Absence are wasting zero time in getting stuck into the 2k trees crowd. They're really going for it with bangers like 'Like A Shadow' and 'Gravity' and the crowd's voices are overwhelming!
The pit is in full flow right now, crowd surfers constantly mixing with the photographers doing their (albeit risky) job snapping them as they get carried off. I am definitely back on home turf here with my third festival in as many weekends and I've never been happier! Blasting through 'Greatest Mistake Of My Life' tracks with 'In Circles' and 'Beyond Belief', I know we're definitely finishing with arguably their biggest hit of 'Afterlife', I don't think I could have had a better introduction to 2000 Trees. And finally 'Afterlife': the crowd immediately gets people on shoulders, the pit goes wild, and people scream every single word. Sublime.
During a bit of a break I figured a bit of a wander around was in order and after grabbing some food, I caught a bit of God Damn at the Cave stage: the name is pretty apt because that's the first thing I thought when hearing them. Incredibly noisy and thick sound, shame it was basically the last song but sounded pretty bloody good to say the least!
Another entry into the stage wanders, I pop into the NEU stage and catch a bit of Superlove. Something about their sound immediately caught my ear, something about the poppy elements mixed with riffy songs in a similar manner to Don Broco compelled me to poke my head into the tent for a listen. Although similarly heavier than some of Don Broco's, their riffy songwriting is definitely on the wavelength I'm hooked on right now. What a fantastic random find, I will definitely be rinsing their back catalogue when I'm home.
After a quick run back to the tent to grab my charger and some sun lotion (because it's bloody blazing), I've made my way back to the main stage for Dinosaur Pile-up. I've seen these mainly based on the recommendation of a mate of mine and I can see why he likes them so much. To be clear, I lean much more heavily towards metal rather than punk, and punk is very much what these are. They remind me a lot of Weezer in parts mixed with some aggression of A. Admittedly it's not quite my sort of thing but I'd be lying if I didn't say they were kicking out a great show.
Lots of crowd participation and great sound, just the right sort of energetic stuff you want on a hot summer's day like this. Some songs definitely err a little bit more towards rock, a similar sort of vibe that the like of Feeder has. The crunchy guitars are kicking out some fat riffs, the bass similarly is chunky and drives the rhythm along with the drums. The three-piece showing off that their main stage slot is well deserved, the crowd is consistently going wild, and I keep seeing someone in a tiger outfit crowd surfing almost every song. It's not the sort of stuff I'd listen to normally, but I can't dispute they've put on a phenomenal show!
After a nip back to camp, I think now's a good time for a wander around the side and I've found myself at the Forest Sessions stage and check the band that's on, Cheerbleederz. I think the main thing I'm struck by is how young they look, although that might be just the uniforms, and they're belting out some really solid punk! Admittedly when I was walking up I was most definitely not expecting this but this is what I love about festivals, catching stuff like this. Lovely surprise to find when having a bit of a wander around though, they sounded great!
Prepping the crowd to the tune of Tom Jones's 'War' and a backdrop of a 'Punch Nazis', hardcore progressives, Anti Flag take the stage to hammer out some angry songs. Although I don't know them as well as I probably should, they've always been a fantastic band with a strong message at live shows. I've seen these a few times now, but this show isn't particularly tight with the guitars audibly getting out of time quite a fair bit. The sound is a bit off too, although I can hear the bass there's no real grunt to it which doesn't really help. In some cases, different members stop playing almost entirely for a bar so despite the animated show visually, the songs themselves fall a bit flat. This doesn't seem to rattle the crowd much as they're more or less going wild in the center with crowd surfers and throwing pints left, right, and center.
Finally for today, it's Jimmy Eat World. Opening with 'Futures', I'm about to see one of the most humble and fantastic bands that's been around for years. 'Pain' already so soon in the set came on so suddenly it gave me whiplash, not that I'm complaining, it's an absolute banger! Coming out swinging with even more bangers with 'Bleed American/Salt Sweat Sugar', I'm actually stunned they're going in with such massive songs this early! Even moving through the lesser known songs, we've still got a great vibe coming across, the solid crowd right down the front is loving it, including the man waving a large inflatable banana.
Each song finishes with a sea of hands going up in unison and a chorus of screams to go with it. I wouldn't expect any different with a 'Jimmy' crowd, their sets and their fans are just an all-round joyful experience to be a part of. Crowd antics even included a guy getting propped up on his feet and standing above the crowd and getting cheers in response! Moving the set towards the end with '23', I'm fairly sure they've got 'The Middle' coming up soon but the company I'm with aren't so sure following their set in Manchester on Tuesday. With a couple of acoustic numbers thrown into the set too, we're getting treat to every facet Jimmy Eat World has to offer. Finishing with 'The Middle', they've justified every single reason for having them as headliners at this year's 2000 Trees. What a spectacular show. Now to go dab the tears away.