By Rich Hobson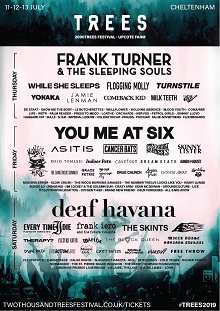 Not content with dropping a week's worth of additions last week, 2000 Trees has grown even bigger with the release of a further 23 bands to the line-up of the 2019 event.
Among the additions are Canadian hardcore heroes Cancer Bats, Leeds alt rock warriors Pulled Apart By Horses and all-round good time San Franscisco rockers Culture Abuse.
The full list of additions are:
As It Is, YONAKA, Cancer Bats, A, Pulled Apart By Horses, Culture Abuse, Vukovi, The Bottom Line, DE STAAT, Show Me The Body, cleopatrick, Free Throw, Le Butcherettes, Wallflower, Modern Error, Dangerface, False Heads and Slingshot Dakota.
These acts join last week's advent calendar of announcements, featuring reggae-ska bouncers The Skints, Aussie pop punks Dune Rats, Holy Roar shoegazers Slow Crush, Northern Irish rockers The Wood Burning Savages and US emo revivalists The Dangerous Summer.
2000 Trees will take place 11-13 July at Upcote Farm in Cheltenham. Tickets are available NOW.