By DJ Monk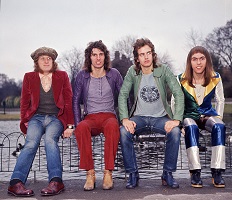 A limited-edition boxset of some of Slade's finest singles is to be released by BMG on 31 May.
'Feel The Noize – The Singlez Box' will comprise of ten rare internationally released 7" singles, including an extremely rare 7" promo copy in a lift off lid box.
The collection will feature five of the Midlands glam rockers' UK number ones – 'Coz I Luv You', 'Take Me Bak 'Ome', 'Mama Weer All Crazee Now', 'Cum On Feel The Noize' and  'Skweeze Me Pleeze Me' – as well as four other top three hits from their imperial phase – 'Gudbuy T'Jane', 'My Friend Stan', 'Far Far Away' and 'Everyday'. The set also includes 1981's 'Night Starvation', not previously commercially released as a 7″.
'Feel The Noize – The Singlez Box' is available to pre-order HERE.
The full Slade catalogue will receive a global digital release for the first time across all digital service providers on 12 April.