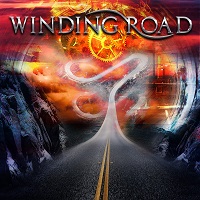 Any album on a label called AOR Heaven should give you an idea of the style before listening to it. This is no exception. Swedish musicians Magnus Akerlund and Jan Hedlund collaborated in Akerlund's studio to compile this 12-track album in 2018. Jonas Tyskhagen provides the vocal talent and Frederik Folkare provide some of the guitar solos.
The main trio of Hedlund (drums/backing vocals), Akerlund (guitar/bass/keyboards/backing vocals) and Tyskhagen may find it difficult to take the project on the road however, given the musicality of the tracks.
Much of the music and style is similar to many other European and AOR-based music such as Poison/Scorpions from their '80s eras.
The first track, 'Matter of Survival', sets the scene and style of the entire album and there are the occasional journey into the ballads. The second track, 'Summertime', reminds me of the music of movie soundtracks like those of 'Flashdance'. 'Call On Me' has a bit of a Hall and Oates feel to the opening segment, before the first ballad, 'I Lost You', opens with piano and could easily be a Disney ballad.
I guess you can see where the bulk of this is going by now. It is AOR, and they make a reasonable fist of it. Its not going to blow anyone's mind, but it is relatively easy listening even if it is a bit formulaic and predictable in its structure and showing its age, even though it is new music.
As a result, I don't need to critique all the tracks on the album. It's the sort of music you could put on as background music when you would occasionally think "Who IS this" or "Hmm I quite like that but…"
'Winding Road' is out now. You can get your copy HERE.
https://www.facebook.com/WindingRoadSweden
All content © Über Rock. Not to be reproduced in part or in whole without the express written permission of Über Rock.