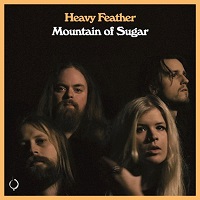 Retro roots rockers Heavy Feather have released their second album on The Sign Records. This is my first experience of the Swedish band.  Having a bit of a soft spot for Scandinavian music (Europe and The Statement are two previous reviews), I thought I'd give this a whirl.
The promo blurb highlights Free, Cream and Skynyrd in their influences, and these can be heard in the variety of tracks, along with some others.
However, there are vocal influences from the era that are also easily heard.  Several of the tracks appear to be influenced by great female artists like Janis Joplin and Grace Slick, and at some points there are tinges of Sonja Kristina from Curved Air mixed into it.
All the tracks are very well composed and have a variety of riffs and hooks that will have you going Hmm.  The apparent reprise of 'Debris and Rubble' from the first album (although it isn't) is a reminder of the hook and drum rhythm of the Deep Purple track 'Space Truckin', so the influences are there to be heard.
The final track, 'Asking in Need' I can also see being introduced by the John Thompson character Louis Balfour from 'The Fast Show'.
Altogether I enjoyed the album and given the chance would go see them if they are ever in the South Wales area.
'Mountain of Sugar' is released today (9 April). You can get your copy HERE.
www.facebook.com/HeavyFeatherRock
All content © Über Rock. Not to be reproduced in part or in whole without the express written permission of Über Rock.