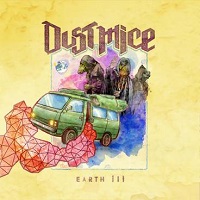 When an album submission comes in referencing spaced-out garage rock with sci-fi influences, it's going to pique my interest and not just because Hawkwind, the pioneers of space rock, sit among my most revered bands. Add in a cover of my favourite band, Black Sabbath, and a homage to another classic rock song and there should be plenty there for me to sink my teeth into and enjoy.
I have to admit, I'm kind of torn. It's a debut album and it shows a lot of promise for that, while the similarities to Nik Turner era Hawkwind are undeniable, given both the heavy use of saxophone and the overall feel of the tracks. There's an ode to Don Henley's 'Boys Of Summer' in the saxophone line, with a lyrical nod later in the track too, and this part is actually quite enjoyable. Dust Mice certainly do a good job of the more musically upbeat side of Hawkwind, even when the themes they are dealing with – wizards cults, suicidal androids and life living in a spaceship to name but three – are maybe darker than the music may suggest, showing a good, early standard of songwriting.
I'm perfectly OK with them having such a heavy nod to Hawkwind in the same way you could compare early Evile to Metallica and other such affinities. They do it well, it has given them a good base to start up from and I think that in a release or two they could hammer out something they feel comfortable with which would stand completely on its own feet. A couple of EPs and a digital single previously means they are likely still fully finding their feet together and the fact they have created an album with a loose(ish) concept and done it so well is to be applauded, as many have tried to emulate such luminaries previously and utterly failed. Linking it thematically into their previous EPs also serves as an additional storytelling device of its own, which adds further into their music, when you listen to it as a whole, something that may actually be missed without listening back to the couple of previous EPs.
There is something I feel they have missed out on, though. The beauty of Hawkwind wasn't just in what they did in terms of upbeat, it was the diversity of sound even within an album. Taking the Nik Turner era, for every 'Assault and Battery', there is a 'The Demented Man', 'Urban Guerilla' to 'The Watcher', 'Master of the Universe' to 'We Took the Wrong Step Years Ago' and so on. I also quite dislike the cover of Black Sabbath's 'Solitude' – to the point after my third listen-through, I skip the track entirely as it definitely affects my overall view. While I appreciate they have tried to take the song into their own style, it feels like they missed the point of the original track, with its slow, soft side providing both contrast and creating an atmosphere of its own.
We come back again, though to this being a debut full release and so it certainly gives them room to expand and grow their sound as a band. I would say this is an album written with live performance in mind, something I would actually give them great credit for doing, as too many bands concentrate on doing things they may not be able to reproduce live. It's definitely an album that I think Hawkwind fans would appreciate, as would anyone into their more psych elements and perhaps even the more general classic/hard rock and AOR fans could find enough in its sound to like and make it a worthwhile purchase.
'Earth III' is released next Friday (16 April). You can get your copy HERE.
All content © Über Rock. Not to be reproduced in part or in whole without the express written permission of Über Rock.