By Monk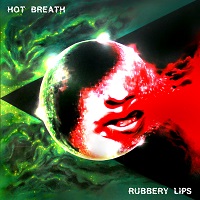 There's a line in 'Adapted Mind', the sixth track on this declarative debut album from Swedish garage rockers Hot Breath, when Jennifer Israelsson refers to climbing aboard a time machine – and that is exactly the feeling that she and her three bandmates (bassist Anton Frick Kallmin, drummer Jimmy Karlsson and lead guitarist Karl Edfeldt) evoke, as they draw us back into the sort of early Eighties vibe that lies somewhere between high-energy pop punk and the heavier end of the radio-friendly pop rock era.
The comparisons with the latter generic aspect are accentuated by Israelsson's vocal style which, right from the off, is extremely reminiscent of that of Pat Benatar, especially in her 'Heartbreak', with the likes of 'Magnetic' and 'Last Barang' both closely mirroring that same song is its sonic punch, while the likes of 'Who's The One' and 'One Hit (To The Body)' could have been ripped straight from the songbooks of Desmond Child or Holly Knight.
Elsewhere, there are strong references to sleazier Scandirock pioneers such a Hanoi Rocks, the pubescent leather-clad lustfulness of The Runaways, as on the album book enders 'Right Time' and 'Bad Feeling', and a whole plethora of punkettes, from Poly Stryene to Skin, (perhaps inevitably) Maria Fredriksson and even Hayley Williams, in the poppiness she – and the band – apply to this catchy collection of tunes.
'Rubbery Lips' is an album which possesses neither airs nor graces. Nor does it set out to do so, What it does is deliver ten slices of perfectly baked punky power pop, all of which place the emphasis on creating an energetic and uplifting alternative soundtrack for these trying times. Definitely one to brighten the darkest Spring afternoon, when the rainclouds once again are gathering overhead and threatening to piss on your freshly planted petunias…
'Rubbery Lips' is released today (Friday 9 April). You can get your copy HERE.
All content © Über Rock. Not to be reproduced in part or in whole without the express written permission of Über Rock.