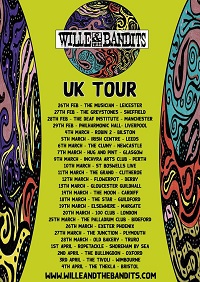 A local gig again tonight, in the fairly recently opened Music Room section of the Liverpool Philharmonic Hall, with Wille & The Bandits being supported by Troy Redfern and his power trio of slide blues. An impressive venue awaits me, and a bumper crowd with the evening of blues in wait for us all.
I sadly arrive late, due to travel issues and only catch a song and a half of Troy's set, meaning I can't give a full honest appraisal of his set, other than to say that the bits I heard were excellent quality and left me wishing I had seen the full set. Something I shall have to rectify in future!
Self-proclaimed 'Acid World Rock' act Wille & The Bandits were a band I admittedly did not know prior to seeing their gig listings and checking their music out, though this show is more than enough to show me I made the right choice to do so! While it's my first time in this particular part of the venue, this entire venue has been built with acoustics and clarity of sound being in the forefront of the mind and despite the room being all seated, there's a generally good atmosphere in the room, two drunken men towards the back apart, who are clearly very inebriated yet don't get cut off at the bar until just before the end. There's a good level of appreciation throughout the room both by the song and at the end of the set and when bearing in mind that it's a packed room, it is a fair indication of how well they play.
'Angel' sticks out as a pretty poignant part of the set, a song Wille wrote specifically for his mum, while the set seems to generally go between a harder blues rock approach and things that sit a lot more delicately in the ear, such as the aforementioned 'Angel', which seem to owe a lot more towards the earlier folk and blues of Peter Green era Fleetwood Mac in their sonic landscapes.
Wille's slide blues is exceptional, alongside three very talented co-musicians, one of which, the token Northerner from Preston, gave backing on keys, acoustic guitar and percussion and seems to have given them a certain something extra in their live performance than the original three piece may have been able to do. The vocal harmonies work well, where used and each musician is highly accomplished with their part. One slight retake, due to an out of tune string, and the earlier mentioned pissheads in the crowd apart, it's been an excellent set of blues and beyond, both from Wille & The Bandits and the couple of bits I caught from the support Troy Redfern, in a very well chosen setting for the intricacies of their songwriting.
The tour continues: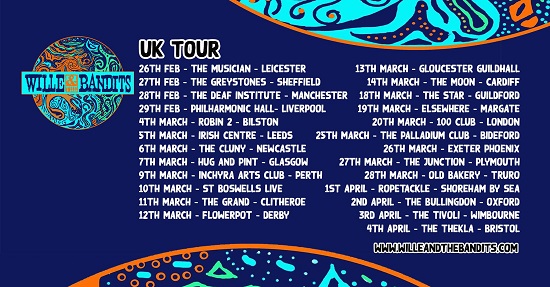 All content © Über Rock. Not to be reproduced in part or in whole without the express written permission of Über Rock.