By Maria Glover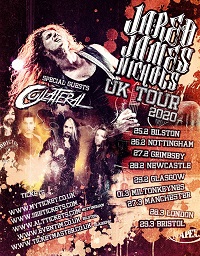 It's a freezing cold February night in Nottingham, I can't feel my toes and my nose has gone numb but thankfully the doors open right on time and I'm excited to see both Collateral and Jared James Nichols again – and on the same bill. Result.
Collateral are making some big waves after a successful year and stint on the Bon Jovi cruise. I had the pleasure of reviewing both their EP and their freshly released debut album, and saw them last year at HRH CROWS – and I have to say I'm looking forward to this almost as much as the big man himself. Describing themselves as "ripped jeans, cowboy boots, long hair and make-up" this band look every inch the American stadium rock band as they take to the stage. It's a difficult crowd at first as they launch into 'Big Shot' with exuberance and style, followed by 'Won't Stop Me Dreaming' and one of my favourites 'Promiseland'. By now the crowd are getting warmed up and this is all down to the performance the lads are putting in, playing to 100 as though there were 1000. after 'Merry Go Round' the crowd have swelled, and they are well and truly sold on this band. 'About This Boy' is a superb track which always gets me and 'Midnight Queen' proves popular with the audience, as does final track 'Lullaby'.
A powerful performance with high jumps and lots of smiles, and most importantly some killer tunes. Check them out, you won't be disappointed. And next time you go to a gig, check out the support, you never know who you might discover. The merch stand looks busy and, as a true testament to the quality of the album, I bought another and had it signed. Watch this space, these guys could be huge.
Collateral support Phil X & The Drills on their forthcoming tour, which kicks off at the Rescue Rooms this coming Tuesday (3 March).

I first saw Jared James Nichols two or three years ago and have made sure I catch him each time he comes to the ÜK. Wisconsin born blues-rock guitarist and singer-songwriter Nichols, described by many as one to watch amongst the finest guitarists in the world, is renowned by his pick-less technique and his custom Les Paul 'Old Glory'. The place is packed out now and the crowd are clearly here to see Nichols, who strides onto the stage and is instantly at ease with the audience. This man can make sweet, sweet music ooze from his guitar with apparent ease, whether hard-hitting blues rock, funky up-tempo or slower emotional numbers, and often-times you could hear a pin drop when he is gently but expertly telling his story in a breathtaking solo at front and centre of the stage.
As well as being a superb guitarist, Nichols has a lovely soulful vocal as he belts out the 13 strong setlist, which features tracks from his 2015 album 'Old Glory And The Wild Revival', his more well-known and extraordinarily addictive 'Black Magic' album. Of course, the set includes his single from last year, 'Nails In The Coffin' (one of my all-time favourite tracks) and brand new track 'You Threw Me To The Wolves'. Nichols commands the stage and demands your full attention, his fingers a blur as he delivers powerful and expert fretwork, his face switching between pure concentration and ecstasy as he does his thing on the stage to a crowd of his fans, rapt by his performance and lost in the music of their King of blues power.
He welcomes on stage a fellow blues guitarist and friend Aaron Keylock and they perform a sublime and captivating display of blues-rock guitar, looking totally at ease playing together and as if they could continue long into the night. Nichols made it look easy but Keylock kept up and gave him a run for his money, wringing the chords from his guitar.
Nichols is a living legend, a superstar in the making, his prowess with the guitar rarely paralleled, his passion surely unrivalled, and his ability to switch between heavier tracks like 'Don't Be Scared' to uptempo numbers like 'Baby Can You Feel It' is mesmerising. And throughout all this, he maintains a cool ease and laid-back demeanour, laughing and joking with the audience and purely enjoying the music. As ever, 'Mississipi Queen' closes an outstanding set to rapturous cheering and applause, and rightly so. Having had the pleasure of meeting him a few times now I can say he is a genuinely beautiful person inside and out and I wish him all the luck in the world.
The first leg of the tour continues at the Garage 2 in Glasgow tonight (Saturday 29 February) and finishes at The Crauford Arms in Milton Keynes tomorrow (Sunday 1 March). It then returns to the ÜK at the end of the month with dates at Soup Kitchen in Manchester (Friday 27 March), The Dome in Tufnell Park (Saturday 29 March) and the Exchange in Bristol on Sunday 29 March).
All content © Über Rock. Not to be reproduced in part or in whole without the express written permission of Über Rock.