By Maria Glover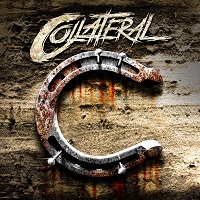 When Kent-based Collateral started out, they were known as the Angelo Tristan Band, with frontman Angelo and bass player Jack. Since then they have worked tirelessly to grow the band and their fanbase and are developing a reputation for a must-see live band.
In a former life, I reviewed the '4 Shots' EP and described it as "comfortingly familiar yet new and fresh and makes me want more". Well, now I have more in the form of their debut self-titled album which is out on 21 February via Roulette Records. It's a nine-track album and one I cannot simply give an overview of, I love it so, but feel the need to bring your attention to each track in turn.
'Mr Big Shot' has big gnarly vocals, with a warmth and sexiness to them, melodic harmonies and classy guitars, forming a classic rock classic. The chorus is killer and catchy AF. 'Promiseland' is a banging track in which the drum pulsates, a battle cry with attitude in bundles and a tiny touch of sleaze to warm my cold sleazy heart, and the pounding drumbeat punches you in the gut.
Current single 'Merry Go Round' gets me in my cowgirl feels, reminiscent of Bon Jovi 'Wanted Dead Or Alive' era, this is southern fried and whiskey soaked and entirely my kind of music. The bassline is HUGE and the track builds towards that big chorus that seeps into your brain and digs in. I had it on repeat for a good half hour… 'In It For Love' has a retro stadium rock feel with gang vocals and yes, i still agree with my statement that this is both fresh and familiar and i absolutely love this genre and what Collateral bring to it.
'Lullaby' won't send you to sleep that's for damn sure; a huge rocker with big booming bass. The rumbling beat helps the track flow and gives it depth, while the melodic vocals – and boy does this guy have a gorgeous vice – bring it to life. Exciting and truly addictive stuff. Fans will recognise 'Midnight Queen' from the EP and the live show and I'm so pleased it made the cut to the album. Countrified rock, a gentle vocal starts alongside a beat that lets you know it means business and won't lie down without a fight. The track builds to a singalong chorus and is a real US driving track; it would suit the soundtrack to your favourite feelgood movie.
'Get Back To You' is a power ballad with balls, beautiful and heartfelt, with a warmth and genuine feel which shows both emotion and maturity. 'Won't Stop Me Dreaming' brings the pace back up, almost pop rock and very commercially friendly.
The piece de resistance for me is 'About This Boy'! This track has that delicious southern influence, beautiful and understated vocals and tells a compelling story.  Simply stunning, a great track with such grace and beauty.
I LOVE this album. I have watched Collateral grow over the last years or so and am very pleased with their success and the quality of their debut album – it has great energy, imparts personality and is very professionally put together.
FFO '80s rock, hair rock, AOR and Bon Jovi, you won't regret adding this to your collection.
'Collateral' is released next Friday (21 February). You can get your copy HERE.
Collateral are touring extensively, with support slots with Jared James Nicholls, Phil X And The Drills, Skid Row and H.E.A.T:

www.facebook.com/collateralrocks
All content © Über Rock. Not to be reproduced in part or in whole without the express written permission of Über Rock.