By Jonny Bakes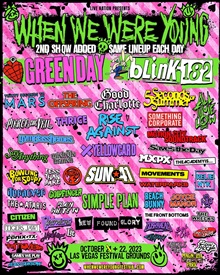 Now that the jet lag has subsided and the bitter sting of the return to reality has sunk in, it's about time that I tell of my time at the most extravagant day festival I've ever been to. It's a festival that has quite possibly ruined certain ÜK festivals for me and there's plenty of things that could be learned by some of the big dogs in the ÜK that's for sure! When I saw the lineup of the 2022 edition of this festival, I remember thinking that it couldn't possibly be real, and then when the 2023 event was announced I knew I just had to find out for myself – I felt there had to be some kind of catch to counter the strength of the lineup… I mean, having pretty much every band I loved as a teen in one place has to be pretty miraculous: Blink 182, Green Day, Good Charlotte, Sum 41… the list goes on!
It was a roasting 30 degrees when we arrived at the Festival Showgrounds at the north end of the Las Vegas Strip, which is a purpose built grounds specifically for hosting festivals and it shows! The facilities were fantastic, with a more than adequate amount of toilet blocks (not the portaloos that we're used to) so that you didn't have to queue to the point of pissing yourself to get relief. There were also large shaded areas near the back of the stages that offered protection from the sun and the heat, whilst also allowing people to sit down and see what was happening on the stages too. And if that wasn't enough, there were also water misters and large industrial fans to cool you down – a real blessing in the Nevada heat! The selection of food vendors catered for all tastes and even had a great selection for us vegan wankers too, which I was a little surprised about given some of the difficulty finding food on the strip itself.
But most importantly, as a lowly Brit, it was an almost surreal experience to not have to queue for anything; entry, bars, food, merch – all of it was a painless experience. The whole setup was a complete contrast to the carnage that was Slam Dunk Festival earlier this year, and made for an extremely pleasant experience! While the merchandise was pretty reasonably priced (at $35 for a T-shirt) some things were a little pricier than we were used to at ÜK festivals. Drinks in particular were a bit of a shock, coming in at $15 for a can of beer.., But it was a 24oz can of Modelo which I guess actually compares pretty well to paying nearly a tenner for a pint of flat Carlsberg in a paper cup. So in fairness, while the price was a bit of a shock it did represent good value for money! We also got to try Avril Lavigne's signature Pink Lemonade cocktail at a rather tasty 11.1% ABV and in a fetching pink carton.. But that's enough about the food and drink, let's talk about the bands!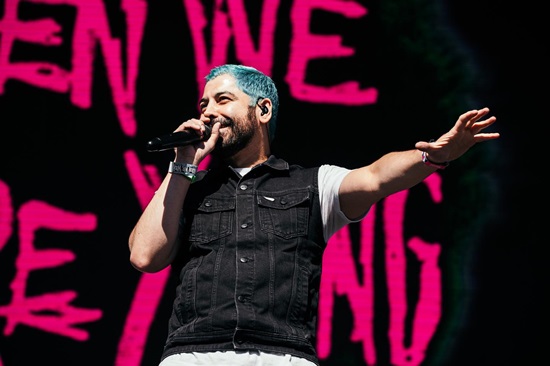 I started the day off with Zebrahead, who had already won me over at Slam Dunk a couple of years ago, and were definitely on top of their game in their home country with an energetic set to set the day off right on the Ghost Stage. We then made the short walk over to the main stages (Pink and Green that are located side by side in a similar way to Wacken – a great idea if you ask me!) to check out New Found Glory who surprised with a cover of 'Let it Go', although I still think Punk Rock Factory did it better, and of course ended their short set with 'My Friends Over You', it wouldn't be a nostalgia-fest without it. Within 5 mins, Yellowcard took to the other stage for a short blast through of their own hits, which meant I could join the thousands of fans blasting out 'Ocean Avenue'. The slick changeovers and short sets meant that it was ideal for those with a slightly shorter attention span, but naturally as the day went on, the sets got longer.
Next up for me was Goldfinger to get my ska fix, but not only that, I'd heard that my all time skate hero, Tony Hawk, had performed with them the day before so I was keen to see if this feat would be repeated. The first surprise was a cover of 'Song 2'by Blur which I didn't realise had made it across the Atlantic but I was eagerly awaiting that classic title track from Tony Hawk's Pro Skater, 'Superman', which did indeed include special guests! But alas, it was not Tony Hawk, instead it was the horns section from Reel Big Fish which I guess will have to do.
Without having to move very far at all, I caught up with some deep cuts from my teen album collection with Relient K, a band I'd not thought about for the best part of 15 years, and Gym Class Heroes. Yeah, I bet that triggered a deep and distant memory for you too, and you're now humming "take a look at my girlfriend". These were playing on the Ghost and Stripe stages which, while not right next to each other, were close enough to happily bounce between. What was more impressive though is that the centre of the stage was a turntable so the next band would set up behind so that shortly after one set finished they could turn it around and have the next band playing within a few minutes! Relient K smashed through a whole bunch of songs from their 2004 release 'Mmhmm' but also threw in a new track about a broken foot in the Less Than Jake circle pit (hopefully not a foreshadowing for later in the day). Gym Class Heroes' set was a little shorter than some would have liked, but for me it was just enough as a man who only briefly crossed paths with their music.
I headed back to the main stage for another band that was a core part of my teenage years, but I'd somehow missed seeing them live, Good Charlotte. I could finally see 'Girls and Boys', 'The Anthem', 'The River' and 'Dance Floor Anthem' but the real surprise was having Lil Wayne join the band on stage for the finale of none other than 'Lifestyles of the Rich and the Famous' which had the thousands strong crowd absolutely wild!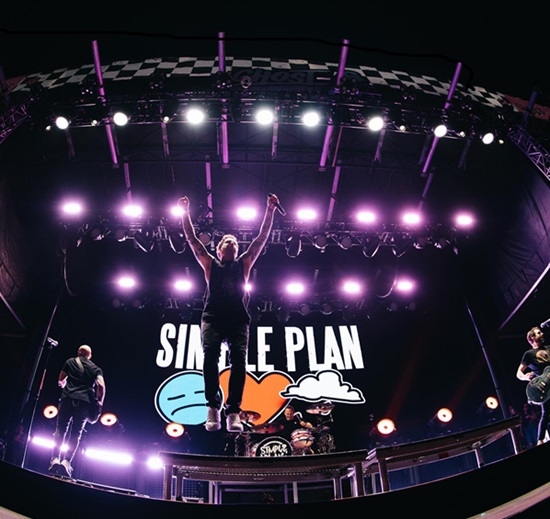 After all this excitement, we started to move into the longer sets of the day with a band that I was seeing for the third time this year after catching both their second stage and surprise acoustic sets at Download this year, Simple Plan. This was a set packed full of the hits like 'Shut Up', 'I'm Just a Kid' (featuring Jaret of Bowling for Soup), 'What's New Scooby Doo' and 'Welcome to my Life' which, I'm not going to lie, made me tear up a little bit as I belted it out along with the rest of the crowd!
But I couldn't contain my excitement for the next band on my list, who I'd wanted to see since I was about 12 years old but had never had the chance. I'll be honest that my review of this band is not going to be very objective as a result though, but I was seriously psyched to finally get to see Say Anything who have hardly touched the ÜK in their career! It was worth the wait for me though because, while Max Bemis was clearly overwhelmed at the strong turnout for the set, the whole band belted out some of my all time favourites in almost pitch perfect manor. To finally get to see 'Alive With the Glory of Love', 'Every Man Has a Molly' and 'Wow, I Can Get Sexual Too' live was a bucket list item for me and just about made my day!
My day ended with Blink 182 who were simply incredible. I'd missed them a couple of times when they came to the UK (most frustratingly when their Bournemouth show was cancelled on the day back in 2017) but after what I witnessed at When We Were Young, I was almost glad that I did. It's been well known that things between Mark, Tom and Travis have been rocky over the years but their new album and the way they performed shows that those rifts have finally healed over and they seem like a strong unit once again. Even better was that the focus of the setlist was on what I like to refer to as "the old shit", that meant plenty from 'Take off your Pants and Jacket', 'Enema of the State' and the self-titled album.
Unfortunately nowt from 'Cheshire Cat' but I'll let that slide because what we did get was pretty mind-blowing! Naturally they threw in a few songs from the new album (hell, it had dropped just in time for When We Were Young) which included ending the whole set with 'One More Time' which is possibly the most poignant way they could have finished things off, and a real emotional and honest portrayal of the bands struggles and resolutions that had me shedding tears (again!). Before this emotional encore though, we had a run of certified bangers, including 'First Date', 'What's My Age Again' and 'Dammit' culminating in a massive firework display that puts the normal Download closing fireworks to shame! It's pretty safe to say that Blink are well and truly back on form and I only hope that they bring that form back over to the UK when they hit our shores in August 2024. Although with ticket prices of around £150 at the moment, I think my £400 WWWY festival ticket was serious value for money!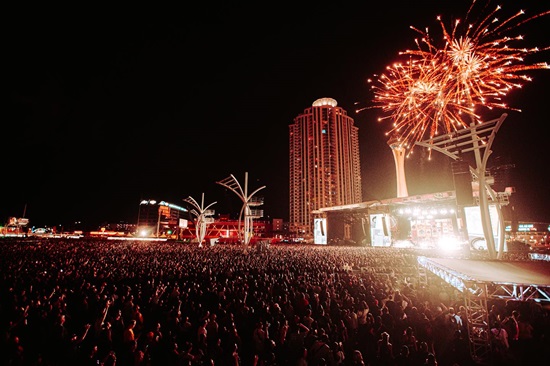 All in all, I can only say great things about the When We Were Young festival. For a festival that pulls such a fantastic lineup of nostalgic bands and puts them on in a fantastic environment with a friendly crowd and slick production, there's nothing that compares in my experience! I've already come to the conclusion that I won't be going to Slam Dunk next year as it seems pretty pointless to me now, and I'd only find myself disappointed. Instead what I'll probably be doing is booking tickets, flights and hotels to do this all again next year.  It's certainly opened my eyes to what can be achieved with the right focus (and probably a significant wad of cash) which should really give our own festivals something to think about.
Photos courtesy of When We Were Young.
All written content © Über Rock. Not to be reproduced in part or in whole without the express written permission of Über Rock.