By Monk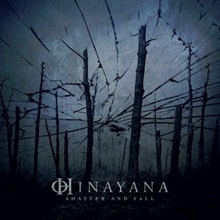 Texan melodeath dealers Hinayana first made an impression on the wider Überverse back in 2018, when their self-released debut album did enough to capture the attention of the ever discerning Napalm Records imprint. Unfortunately, fate subsequently intervened, as it did for so many of us, and the pandemic struck just as the quintet prepared to release their first offering for the label… But, they say that good things come to those who wait, and so here we are, almost four years later, with the band's second album threatening to destroy the speaker stacks at ÜRHQ…
Did I say "good things" come to those who wait? Well, we can add dark, dense, malcontented, melancholic and, dare I say it, grandiose to that sense of anticipation, as 'Shatter And Fall' ticks all of those boxes, and many more. While it is hard, if not almost impossible, to bring anything new to a specific genre, Hinayana defiantly emphasize all the classic qualities on the melodic death mien with cohesive confidence, combining technical ability and prowess with a sense of passion and genuine commitment to their art.
The ability to blend light and dark, shadow and shade, feather and concrete is displayed right from off, as the almost optimistically bright opening of 'Slowly Light Collides' imminently and deliriously descends into a cavern of doomy dankness, its winding riff drawing us inexorably deeper and deeper into its joyous dreariness. 'Mind Is A Shadow' sees them move into even more introspective territory, with it's acerbic dual vocal (Vincent Jackson Jones of Aether Realm is the first to two guest vocalists to feature here, the other being Wolfheart's Tuomas Saukkonen on penultimate track and declarative single 'A Tide Unturning') spitting and snarling like a pair of cornered wolves.
'Shatter And Fall' is a declarative album. One filled with twists and turns, weights and measures, contrasts and contradictions, but ones which balance with an innate sense of equilibirium that present a superbly orchestrated and delivered opus that hits with more impact than even Bruce Willis could divert.
All content © Über Rock. Not to be reproduced in part or in whole without the express written permission of Über Rock.