By Rich Hobson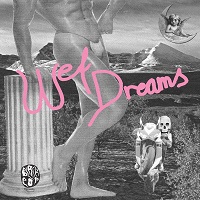 It's a case of another month, another great rock n roll discovery from the continent in the self-titled debut by Norwegian punks Wet Dreams. Taking a sonic lineage first set by acts like The Stooges and later Buzzcocks, Wet Dreams play a brand of fuzzy punk which is best heard loud, preferably blaring out of a stereo whilst drinking copiously and jumping around like a lunatic. Sounding rawer than a live fuse dropped in a bath-tub, 'Wet Dreams' has been mixed to perfection by Øystein Braut to evoke the buzzsaw energy of early punk, with added flair that seems so massively inherent to the Scandinavian rock scene as of late.
Opener 'Band Aid' is almost insultingly simple but possesses enough charm that – much like Buzzcocks before them – Wet Dreams just pull it off like an earnest blast of fun, fuzzy rock n roll. It doesn't hurt that the band pull it off without a shred of self-consciousness nor sounding like they are desperately trying to ape the era they draw so deeply from; this is a record that sounds unabashedly fun and makes no secret of the fact. The swagger seems to come right from that protopunk era before everything became about how un-affected the whole scene was; there are massive, unwieldy guitar solos and snarling pop singalongs that capture the spirit of early punk so well. Take the snotty delivery of the chorus to 'Radioactivity' – "I'd rather kill myself than be like that… be like thaaaat' could easily have come from the lips of Rotten, a Ramone or Devoto, but doesn't come across as an attempt to ape any of the above.
A breather away from their day jobs in FOAMMM, Warp Riders, De Marvells and Death By Unga Bunga, Wet Dreams seems to be a chance for each of these musicians to cut loose and just make the kind of music they love, far from artistic expectation or the need to express something new. Ironically, in doing so they have made a record which is inherently appealing, evoking the grimy streets of 70s London and New York at a point where any band could kickstart a cultural revolution. Taking on an energy entirely of its own, the debut Wet Dreams album is rock n roll fast food for a generation that wants a hell of a lot of swagger and some great songs to boot, easy to digest in under 25 minutes and leaving the audience hungry for more.
'Wet Dreams' is out now. You can get your copy HERE.
www.facebook.com/wetdreamsband/
All content © Über Rock. Not to be reproduced in part or in whole without the express written permission of Über Rock.