By Phil Cooper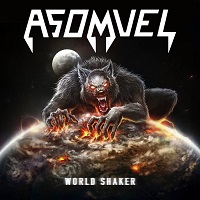 Heavy metal trio Asomvel released their debut album 'Kamikaze' in 2009. With a healthy buzz surrounding the band and the album being critically well received, it seemed that they were poised to go on to great things. Then a tragic turn in 2010 saw founding front man Jay-Jay Winter killed in a car accident. With resilience and a gritty determination to continue, Asomvel vowed to push forward and recruited Jay-Jay's nephew Ralph Robinson. 2013 saw the release of the album 'Knuckle Duster' and widespread touring for the band including extended dates throughout Europe, South America and a number of festival slots. Now 2019 brings forward eleven new tracks for 'World Shaker'. With their brand of traditional styled heavy sound what do Asomvel have in store?
Kickstarting with the title track, 'World Shaker' shows that Asomvel have lost none of their initial fire and are ready to make a statement with this new album. A rapid guitar riff coupled with a staccato drum intro bring in a full wall of heavy rock and roll driven by the machine gun bass lines. The rough and ready vocals kick in mixing with the instrumentation to thicken the texture and add an extra punch to the music. For a three-piece there's a lot going on with the bass and drums linking up to provide an unstoppable drive, the guitar riffs come in thick and fast and wah pedal solos cutting through the top of the mix. The wall of sound lasts for two and half minutes, with the track providing an excellent introduction for what's to come.
'True Believer' follows up with the head down no-nonsense groove begun from the album opener. From the get go it's a statement of intent: "the things you wanna do, just do 'em" barks Robinson for the introduction as a rapid driving rhythm takes hold and does not let up throughout the track. Dynamically, the track retains a thick full wall of sound from start to finish. However, it's not just a full cacophony with no identified changes, the instrumentation enables the track to flow and shift. Notably with the guitar work embellishing the bass and drum rhythms and cutting through with well crafted solo breaks.
'Payback's A Bitch' takes what has gone before and ups it a little further. With a driving groove underpinning the guitar and vocal melody lines, it's one of the stand out tracks of the album. There's a more rock 'n' roll vibe than straight up heavy metal and gives the track a catchier nature. There's no denying their classic metal influence even when they mix in a little more rock 'n' roll. 'Runnin' The Gauntlet' mixes in a hefty dose of classic thrash inspired sound led by the drums of Jani Pasanen and 'The Law is The Law' takes a lot of cues from NWOBHM to create it's pounding, head bang inducing groove. The latter half of the album builds on everything that has come before. The relentless attack of bass and drums ties together to lay a powerful foundation, the vocals of Robinson continue to growl and shout through the mix punching through the thick texture that is rounded out by the guitar work of Lenny Robinson. Indeed, it is the guitar work that takes the control for 'Every Dog Has It's Day'. Another standout track, the intro features a catchy hook line that forms a repeated motif throughout the track combined with a rapid lead line. The rhythm section takes its cue from the guitar work and a rapid tempo is set powering onwards as the lead melody weaves through the riffs.
'World Shaker' is a well-produced and mixed album. Each track features a wall of sound with each instrument playing at a break neck tempo and seemingly full volume. All the while the vocals add an additional layer by mimicking this aggressive metal style. The mixing allows for the instruments to be separated so that there is no muddying of the sound and there is not only clarity but also unity for the sound. The vocals are possibly a little quiet in the mix, but this makes them more of a feature of the collective sound and therefore inclusive in the track rather than sitting clearly on top of the instrumentation. Tracks such as 'Steamroller', 'Smokescreen' and album closer 'The Nightmare Ain't Over' allow for the listener to pick out not only individual instruments but also individual notes, particularly on Robinson's bass playing.
Since they first arrived on the scene and from the release of tracks from this album, Asomvel have drawn a large amount of comparison to their sound and that of late seventies/early eighties metal. Notably that they sound very similar to Motorhead. Undeniably their music is very reminiscent of 'Overkill' and 'Bomber' era Motorhead. Rapid fire double kick drumming, the bass guitar becoming more like a rhythm guitar, the vocal growls and attacking guitar lines all combine to create a dirty and powerful heavy sound. The similarities also to extend to the image of the band, bullet belts and leather jackets and Robinson's low-slung Rickenbacker bass guitar all mirroring Lemmy and Co.  These links have led to some writing Asomvel off as a copycat type band, not directly a covers band but wanting to be something they're not. This is where potential criticism of 'World Shaker' could be voiced, that musically there is not a lot new or exciting. Nonsense. It's no bad thing to wear your influences on your sleeve. Rock 'n' roll and Heavy Metal is about doing things the way you want, as the opening of 'True Believer' states. Yes, there are similarities but Asomvel do have a spark of something that is all their own and it shows on this album.
'World Shaker' is a cracker of an album. It's got an up tempo, don't give a damn attitude running right the way through it. There's a number of stand out moments along the way whether that's entire tracks such as 'Payback's a Bitch' or 'The Nightmare Ain't Over' to specific sections like the guitar work on 'Every Dog Has It's Day'. The eleven tracks on offer pack a solid punch and will leave the listener hyped up on the power of Heavy Metal. With this collection of tracks under their belt, Asomvel are well prepared for another tour and hopefully much more music to come.
All content © Über Rock. Not to be reproduced in part or in whole without the express written permission of Über Rock.