By DJ Monk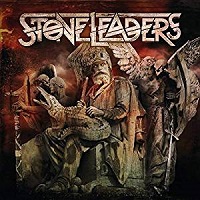 Stone Leaders trace their origins back to early 2016 when renowned session drummer John Macaluso – known for his work with Ark, Yngwie Malmsteen, TNT, Symphony X and James LaBrie, among others – was contracted to do a drum clinic in the Croatian capital of Zagreb. But he needed a band, so the promoter hooked him up with guitarist/vocalist Ivan Mihaljevic and bassist Marko Karacic, from local band Side Effects. The trio, and especially Macaluso and Mihaljevic, clicked immediately and so began the long road towards the release, three years later, of this debut studio offering from the project.
Apparently, the album was written somewhat "arse about face" (to coin a good old Norn Iron expression), as Macaluso has expleained: "(the) writing and recording process is much different than the way most bands do it. We did it the way my past band Ark did. First, I went into the studio and did a demo of only drum arrangement before any notes were written. I recorded the track with songs in mind, intro, verse, chorus etc. Then I sent these tracks to Ivan and then the songwriting process began, recording over the drum tracks while writing the song. I also gave him a song title so he could capture a mood and not just write cold over drum beats".
This writing approach is very much evident from the outset, as Macaluso's drums are very much front and centre, in terms of the song structures, their presentation and the final production on what is, at the end of the day, a confident, erudite and beautifully presented album of the heavy prog sub-genre, a la Dream Theater, if you need a ready reference point.
However, as impressive and as central to the album's success as Macaluso's percussion work, Stone Leaders is very much a sum of its parts.  Karacic underpins the rhythms with a balance of heaviness and poise, while Mihaljevic delivers a supremely energetic performance, both instrumentally and vocally, ensuring that the glue which holds the album together shows no sign of softening.  Each of the 12 songs is beautifully constructed, drawing out their many intricate layers with a deft simplicity which not only delivers an immediate impact but leaves you most definitely wanting to explore deeper into both their individual and collective grooves.
The result is an album which can quite easily stand toe-to-toe with Macaluso's former collabotor James LaBrie and the latter's full-time band's latest opus in terms of having delivered the prog album of the year to date. And, if you drooled over Sons Of Apollo's debut opus magnificus, then you'll fall in love with this on first listen. Entrancing and energising in equal measure, this definitely is a gem worth mining the interweb to find.
'Stone Leaders' is out now. You can get your copy HERE.
www.facebook.com/stoneleaders1/
All content © Über Rock. Not to be reproduced in part or in whole without the express written permission of Über Rock.