By Rich Hobson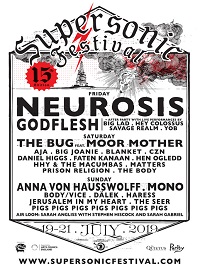 Birmingham's premier festival of experimental music and art, Supersonic is an institution unto itself more akin to the diverse experiences of a festival like Roadburn than to your Reading and Leeds or even Download type events. With Neurosis already heading up the bill on the Friday night (and tickets having sold out for that event at the Town Hall), Supersonic has just got even bigger – and infinitely madder – with the announcement of day splits, and a whole host of new acts to check out.
The latest names to join the line-up include Hey Colossus, Big Lad, Body/Vice, Daniel Higgs, The Seer, Blanket, Savage Realm, Air Loom (an installation by composer Sarah Angliss), Haress and HY & The Macumbas, representing an incredible spread of styles, genres and aesthetics to enjoy over the weekend.
Celebrating its 15th iteration, Supersonic is a proud fixture of the UK alternative music and arts scene, an expansive event which includes everything from modern art and sculptures to phenomenal once-in-a-lifetime performances. The event is currently on-sale with a limited number of weekend passes, as well as some day tickets. The current day-splits are set as follows;
Friday – Town Hall opening concert featuring Neurosis and Godflesh + the after party with live performances by Big Lad, Hey Colossus, Savage Realm and Yob.
Saturday – The Bug feat Moor Mother, AJA, Big Joanie, Blanket, CZN, Daniel Higgs, Faten Kanaan, Hen Ogledd, HHY & The Macumbas, Matters, Prison Religion and The Body.
Sunday – Anna Von Hausswolff, Mono, Air Loom: Sarah Angliss with Stephen Hiscock and Sarah Gabriel, Body/Vice, Dälek, Haress, Jerusalem In My Heart, Pigs Pigs Pigs Pigs Pigs Pigs Pigs and The Seer.
Tickets are on sale now.