Chosen by Monk

We had another massive wave of videos come our way this past week – a veritable tsunami of more than 120 of them – all vying for the coveted title and virtual gong of being named our favourite… Believe me, we do watch all of the submissions, and a lot of them are of an extremely high quality, but there can only ever be one winner…
And, to that end, this week's selection comes from an artist who has never been afraid push the envelope just that little bit further towards the other side of the table, both sonically and visually, but also has managed to do so with a remarkable consistency in terms of the quality of his output in both regards. We are talking, of course, about Jamie Lenman, who once again has delivered the goods, in both departments, with a clip that delivers an imaginative twist on the traditional "performance video" – something which would automatically be discounted for consideration in this feature, but Lenman has brought a unique element to that particular visual mien by presenting us with a one-take live-loop video to accompany his new single, 'Television Is Not Your Life'. In the process, he becomes only the second act in the history of this feature to win the award three times.
Talking about how the idea came about, Jamie told us:
"I had some time between my summer tour and a string of autumn shows, so I decided to spend it with a bunch of different producers and try out some ideas. I'd been noodling with the idea of a loop-able song and video for a long time, and I knew Chris (Coulter, Arcane Roots) would be the only guy who'd get was I was on about, so we set up a bunch of cameras and nailed it into the ground. I think we got it on take 26!"
Speaking about the song itself, he added:
"[It} has actually been around since before the first Reuben album, which is why it maybe has that familiar sound. I always meant to get it out, but it always seemed to miss its turn, and then when I was looking for a song that was simple enough for the loop idea, there it was. I had to pare it back to make it work with the tricky concept, but I think it still hangs together, even without the video. A nice sentiment too – lots of people act like they're living in some schlocky daytime serial when the reality is that there's no need for all that drama."
Jamie Lenman heads out on tour (again!) from next weekend: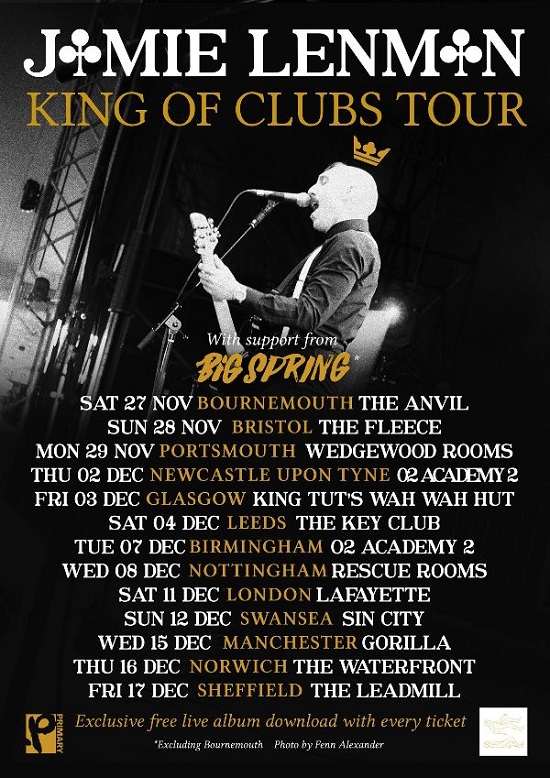 Until next time, keep 'er lit, keep 'er between the hedges and keep on rockin' and rollin' with your favourite website \m/
All written content © Über Rock. Not to be reproduced in part or in whole without the express written permission of Über Rock.